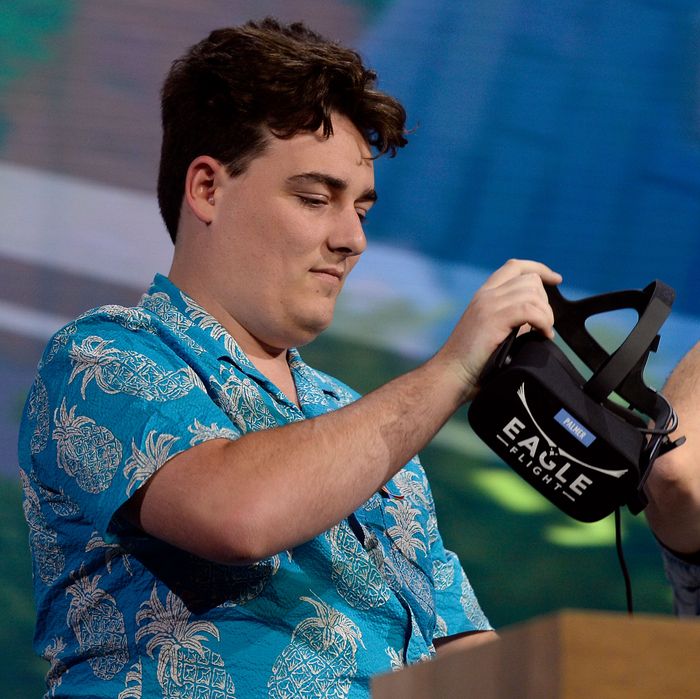 Palmer Luckey leaves virtual reality behind.
Photo: Kevork Djansezian/Getty Images
Palmer Luckey is, in many ways, the man responsible for the current VR industry. His Oculus Rift headset brought a moribund industry back to life, he was able to bring industry legend John Carmack onboard early, and the company's acquisition for a stunning $2 billion by Facebook made the whole world take notice.
Early demos with Oculus Rift units were things of legend, spoken about by tech people in the same hushed terms as they might have used after getting to see a working iPhone. After peering around inside the virtual worlds created from a Rift headset, it was easy to believe that this tech was going to change the world as fundamentally as the PC or smartphone. And standing at the head of that was Palmer Luckey.
But things didn't quite turn out that way. Oculus, despite being first to announce, was actually beaten to market by upstart HTC Vive, which also was able to pull off "room-scale" VR, which let you walk around those virtual worlds instead of using an awkward controller. While neither Oculus nor Vive have released sales numbers, one research firm says the Vive has outsold the Oculus nearly two to one, with the Rift selling just a quarter million units. Sony, meanwhile, created an objectively inferior product in the PSVR and is closing in on selling a million units.
But the real woes for Luckey started in late summer, when it was revealed that he was behind Nimble America, a collective of anti–Hillary Clinton online posters who were flooding social networks with pro-Trump memes — perhaps better known as "shitposting."
"I came into touch with them over Facebook," Luckey told the Daily Beast at the time. "It went along the lines of 'hey, I have a bunch of money. I would love to see more of this stuff.' They wanted to build buzz and do fundraising."
Luckey issued an apology the day after the story broke, but his time as the public face of Oculus — he was the one on the cover of Time — was over. Gizmodo's William Turton started a "Palmer Watch" after Luckey failed to make an appearance at a major Oculus conference. Luckey made no appearances for Oculus, gave no statements, sat down for no interviews. It's arguable that it wasn't Palmer's support for Trump that made him such a persona non grata in the industry, but instead that he chose to support a group of online trolls and shitposters. Peter Thiel, after all, still sits happily on the board of Facebook.
However, today's news that Luckey has left Oculus isn't, perhaps, the culmination of some long-brewing fallout for his immature choices. Facebook acquired Oculus on March 25, 2014. According to rumors, part of the acquisition involved Luckey signing a three-year contract. And today is [checks calendar] just about three years later. Weird!
An Oculus spokesperson praised Luckey in a statement to Select All: "Palmer will be dearly missed. Palmer's legacy extends far beyond Oculus. His inventive spirit helped kickstart the modern VR revolution and build an industry. We're thankful for everything he did for Oculus and VR, and we wish him all the best."
There's no word on what Luckey will do next. Lord knows the world always needs another shitposter.