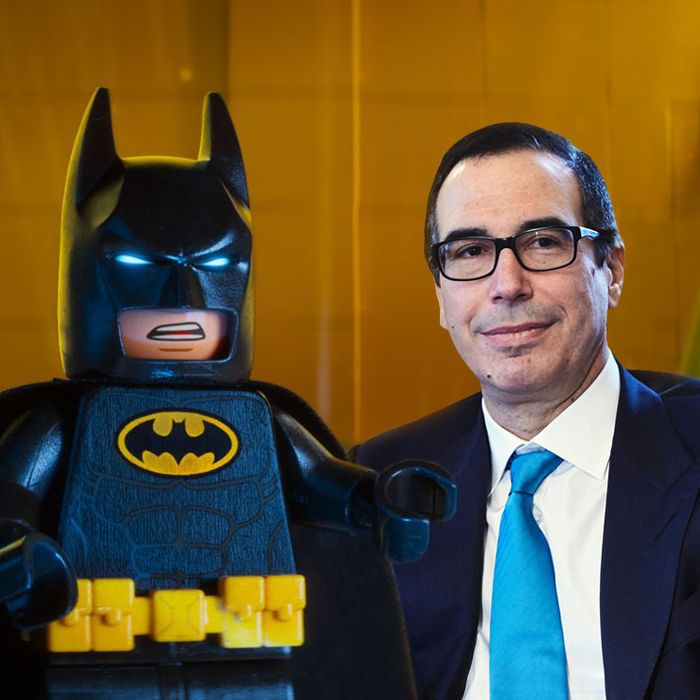 Steven Mnuchin was an executive producer of Lego Batman.
Photo-Illustration: Daily Intelligencer; Photos: Warner Bros.; Brendan Smialowski/AFP/Getty Images
Last week, when Treasury Secretary Steve Mnuchin told a crowd of people to "send all your kids to Lego Batman," a movie he produced, it was not an endorsement of The Lego Batman Movie, he claimed Friday.
In a letter to the Office of Government Ethics (OGE), Mnuchin explained that when he promoted the movie during an interview with Axios, it was not his "intention to promote" the movie. That's why he prefaced it by saying, "I'm not promoting any product."
"The Secretary's responses were made in jest and not intended to be a product endorsement of the Lego Batman movie," a Treasury spokesperson told NBC News.
But as Mnuchin admits, his words "could reasonably have been interpreted to encourage the questioner to see a film with which I was associated." For that he apologized.
Mnuchin's apology comes after Senator Ron Wyden called for an ethics probe of Mnuchin. In a statement this week, Wyden said "Secretary Mnuchin's remarks signal a blatant disregard and disrespect to the office he serves and the power it holds."
Stay tuned next week, when Mnuchin finds another clever way to get the political press writing more about his movie, The Lego Batman Movie, which is still in theaters.