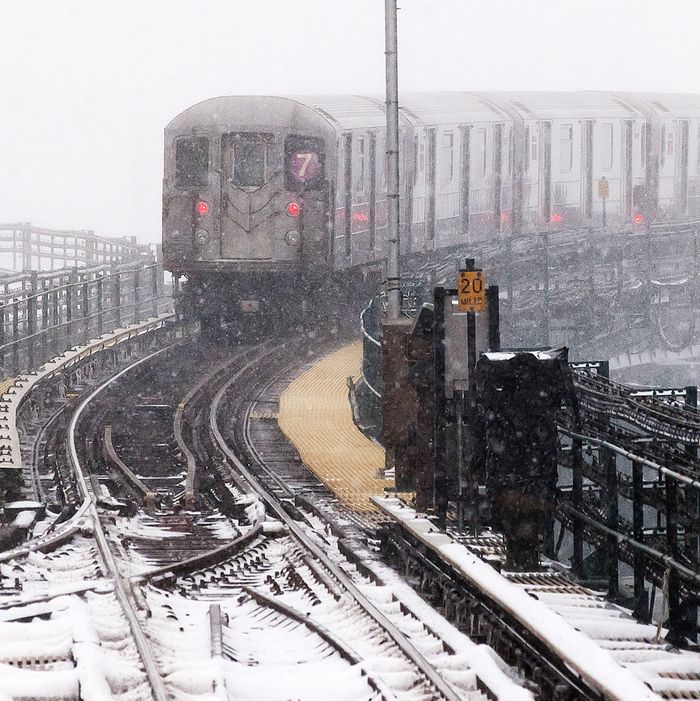 Photo: Richard B. Levine/Corbis via Getty Images
The dream of staying home and watching Netflix on a snow day just came closer to fruition for a lot of New Yorkers as the MTA announced plans to shut down service on its aboveground lines. The changes will go into effect at 4 a.m. Tuesday morning, just as the city is expected to start feeling the brunt of this March blizzard that could dump close to two feet of snow.
All trains will run along the local tracks starting at midnight, and some lines will stop running Tuesday morning. Here's the snowstorm-abridged subway map: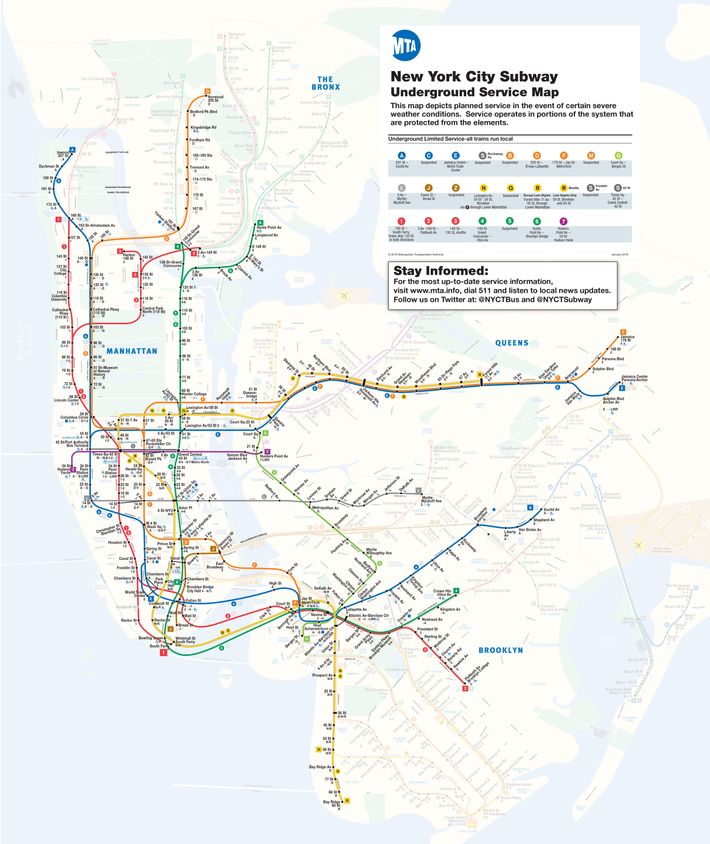 Governor Andrew Cuomo also warned that, depending on how this Nor'easter unfolds, commuter rails and buses will also experience service changes or temporary suspensions. The MTA says 9,700 personnel are on duty "specifically for snow fighting."
Mayor Bill de Blasio declared a state of emergency in the city, which goes into effect at midnight. The mayor preemptively closed all public schools, and is urging New Yorkers to stay off the roads to give emergency vehicles and the plows ample room to do their jobs. "For the daytime hours tomorrow," he said, "do not expect to see a lot of blacktop in New York City." De Blasio said nearly 700 salt spreaders have been sent out in advance, and about 1,600 plows will be deployed across the city.
"The best thing to do is stay in if you can stay in," de Blasio added. The National Weather Service said the same: "Do not travel," the agency warns, adding that, if you must, "have a winter survival kit with you." Conditions, especially Tuesday morning into the afternoon, will be treacherous. Snow could fall at a rate of two to four inches per hour Tuesday. Visibility will be a quarter-mile or less, with whiteout conditions possible. Winds will be whipping with gusts at 55 miles per hour. Coastal areas also face a minor to moderate flooding risk during high tide.
Plans of escaping to warmer climes have likely been foiled. Airlines have canceled more than 5,000 flights across the United States.
The blizzard warning goes into effect at midnight, and will last 24 hours. Before it's all over, New York could get pummeled with a potentially record-setting 23 inches of snow. So take a cue from German chancellor Angela Merkel and postpone all engagements until the East Coast digs out.