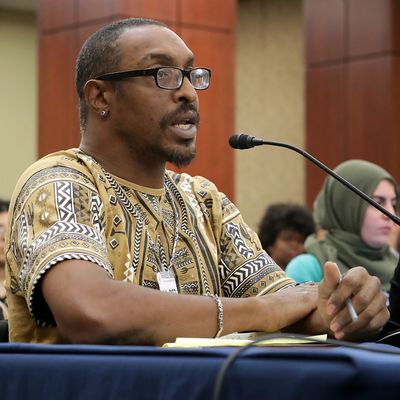 Muhammad Ali Jr. speaks at a forum about immigration enforcement with Democratic members of the House of Representatives in the House Visitors Center at the U.S. Capitol on March 9.
Photo: Chip Somodevilla/Getty Images
The son of legendary boxer Muhammad Ali says he has been detained at a U.S. airport for the second time. Muhammad Ali Jr., who last month claimed that he had been stopped by border agents and questioned about his name and religion upon returning to the U.S. from abroad, now says he was stopped and questioned again on Friday at Reagan National Airport in Washington, D.C., this time after coming to the nation's capital to lobby against racial profiling and to speak to lawmakers about his first detention.
Ali's friend and lawyer, Chris Mancini, told the Daily News that Ali Jr. was stopped at a JetBlue check-in counter on Friday, then detained by Homeland Security officials for 20-25 minutes after they rejected his state-issued ID. Ali Jr. was then not allowed to continue to his flight until he produced his U.S. passport, which he ultimately did. Reached for comment by the Daily News, a TSA spokesperson disputed the idea that Ali Jr. had been detained, or that the delay was as long as Ali claimed. The TSA instead stated that the delay was because "a call was made to confirm Mr. Ali's identity with TSA officials."
"We sometimes have to verify the identity of passengers," the TSA added, also insisting that, "We work to resolve the problem as quickly as possible, which in this case took 11 minutes." Regarding Ali. Jr.'s ID, the TSA said that his Illinois-issued identification card, which was not a driver's license, was not valid for flying.

Mancini thinks the incident was retaliation, however. Ali Jr. had just shared the story of his first detention with U.S. lawmakers on Thursday at a forum in D.C., and Mancini speculated that "quite obviously he's now been put on a different status," since Ali Jr. had no trouble with his ID on the trip to Washington — only on the way back after speaking about his first detention. If Ali Jr. had an official identification card issued by the state of Illinois, that seems like it should have been sufficient to use as ID when flying domestically.

Mancini said that the family is filing a complaint with the Department of Homeland Security as well as planning a lawsuit.

According to Ali Jr., he was profiled and detained by border agents for nearly two hours on February 7 after landing in the U.S. on a flight from Jamaica, then asked if he was a Muslim and where he got his name from. On Thursday, Ali Jr. told Democratic members of the House that "I believe they were religiously and racially profiling me." Customs and Border Protection ultimately denied that Ali Jr., or anyone, would be profiled, but also would not explain why Ali Jr. and his mother required additional screening on that day, citing privacy concerns.

Congressmember and former chair of the DNC Debbie Wasserman Schultz was on the same flight back to Florida as Ali Jr. and tweeted that his detention was an act of religious profiling: