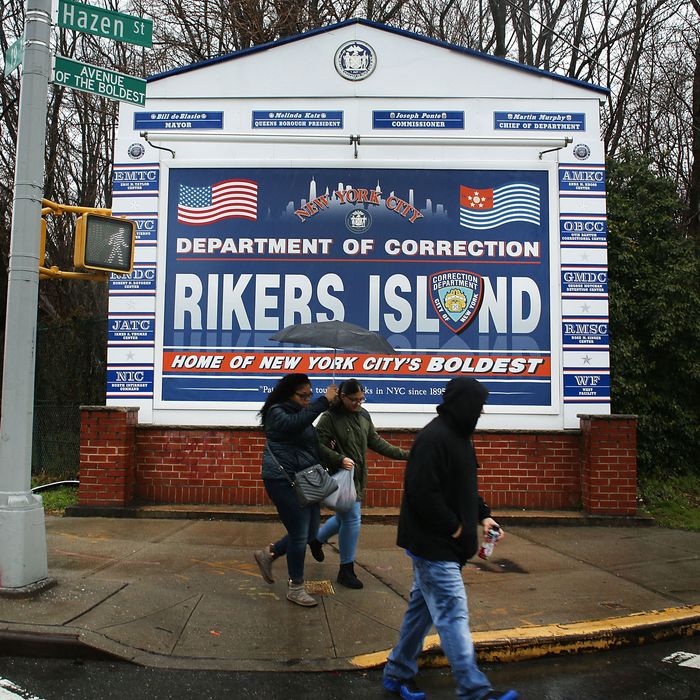 "A scourge to this city."
Photo: Spencer Platt/Getty Images
Mayor Bill de Blasio vowed Friday to close the jail on Rikers Island within the next ten years and replace it with several different facilities that improve conditions for both inmates and guards.
"It will take many years. It will take many tough decisions along the way. But it will happen," he said at a City Hall press conference.
The announcement comes ahead of this weekend's release of a report, prepared by a blue-ribbon panel, that will call for the jail's closing. The report is expected to recommend smaller jails in each borough, but de Blasio stopped short of supporting that specific plan.
"I'm working from a neutral position of saying I only know this: We will need a few more facilities," he said. "There's no assumption on the number or location or how many."
The news was greeted with celebration by advocates for criminal-justice reform. (See New York's in-depth 2015 feature story about Rikers.) Seymour James, the head of the Legal Aid Society, said "the dream of closing Rikers Island will finally become reality." He added that the Rikers Island jail, which opened in 1931, is a "long scourge to this city besetting justice, perpetuating recidivism and destroying black and brown communities."