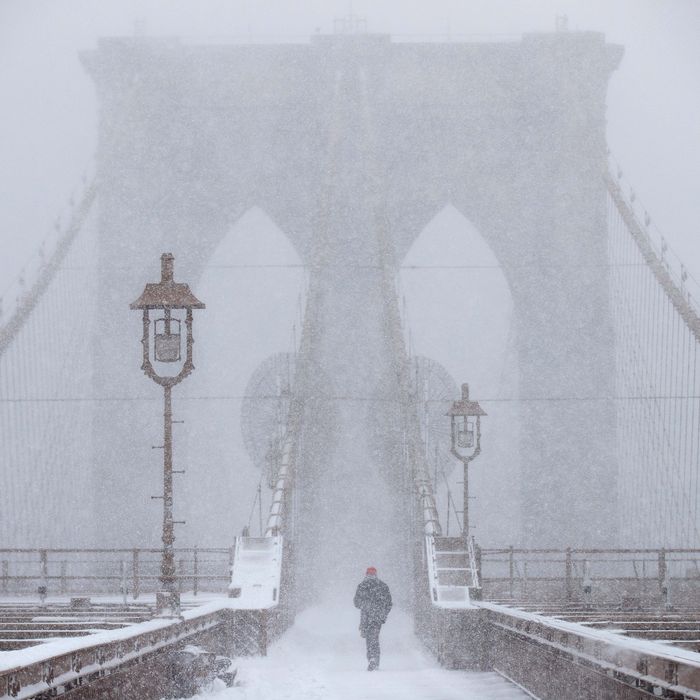 Photo: Drew Angerer/Getty Images
The National Weather Service has issued a blizzard watch for parts of the northeast coast starting late Monday night, and the powerful approaching nor'easter is currently forecast to deposit as much as 12-to-18 inches of snow on the New York Metro Area. The almost-spring storm will likely inundate Long Island and southern New England along the coast up through Boston as well, bringing wind gusts of up to 60 mph, while the unseasonably cold temperatures will stay in the upper-20s. All of this follows the second-warmest February on record, because weather doesn't much care for making sense.
The potential onslaught, dubbed Winter Storm Stella by the storm-naming folks, is expected to start in New York late Monday and continue through late Tuesday evening and possibly into Wednesday. The snow could fall at rates of three-to-five inches per hour at times, though a rate closer to one-to-three inches per hour seems more likely. Travel shutdowns, power outages, and other problems are probably on tap as well since northeastern trees, deceived by the balmy February, have already been leafing out, which in combination with wet snow and high winds may mean a lot of fallen branches or worse. A snow alert has already been issued by the city, and coastal flooding may also be an issue.
Everywhere from D.C. to Maine and all the way west to the Dakotas are expected to get some snow through Wednesday:
One forecast model shows the capital area getting as much as 10-to-15 inches, but not all models agree at this point, and temperatures seem like they will be warmer in the South.
The precise track and intensity of the storm remains uncertain as of Sunday morning, but you should probably expect a seriously snowy Tuesday, as well as a lot of references to this classic Simpsons clip: