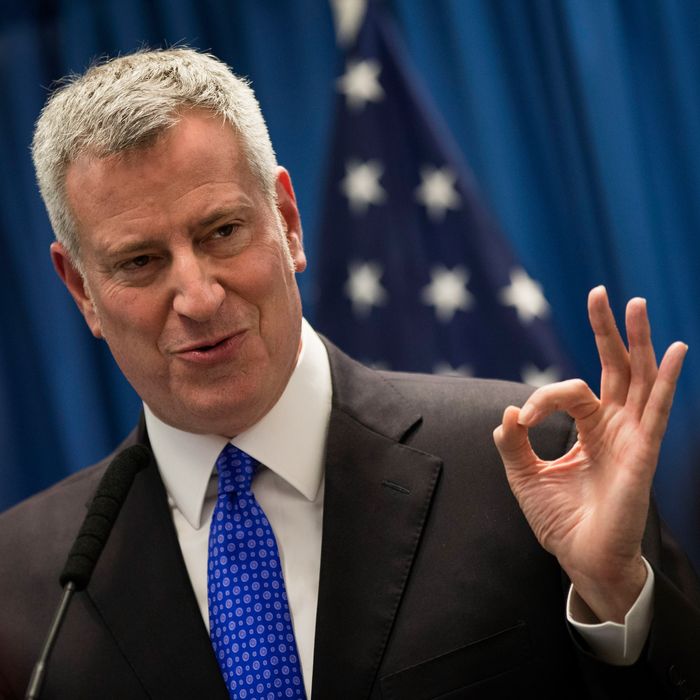 Bill de Blasio.
Photo: Drew Angerer/Getty Images
Here's some good news for Bill de Blasio: The New York mayor just notched his highest approval rating in more than a year. Fully 50 percent approve of the job he's doing, compared to 42 who disapprove, says a new Quinnipiac poll.
De Blasio still can't shake all of his troubles — he's still plagued by multiple investigations into his campaign fundraising, and he just launched a new plan to tackle the city's record homelessness — but it's likely the mayor did benefit from a little Trump bump. De Blasio has vowed to defend the city against the president's policies, preserving its "sanctuary city" status and protecting immigrant New Yorkers. And, despite upticks in violent crime in other major cities, New York's rates dropped to historic lows in 2016, and the trend continues so far this year.
The uptick bodes well for de Blasio in an election year. The Quinnipiac poll also said voters support his reelection 47 to 44 percent. The mayor doesn't have any viable Democratic challengers yet, and in a head-to-head matchup against GOP challenger Paul Massey, de Blasio wallops him 59 to 25 percent. Massey, a real-estate developer, doesn't have the name recognition yet, and November is a long way out, but the mayor's 2o17 reelection prospects are looking brighter, at least until he takes a helicopter again.