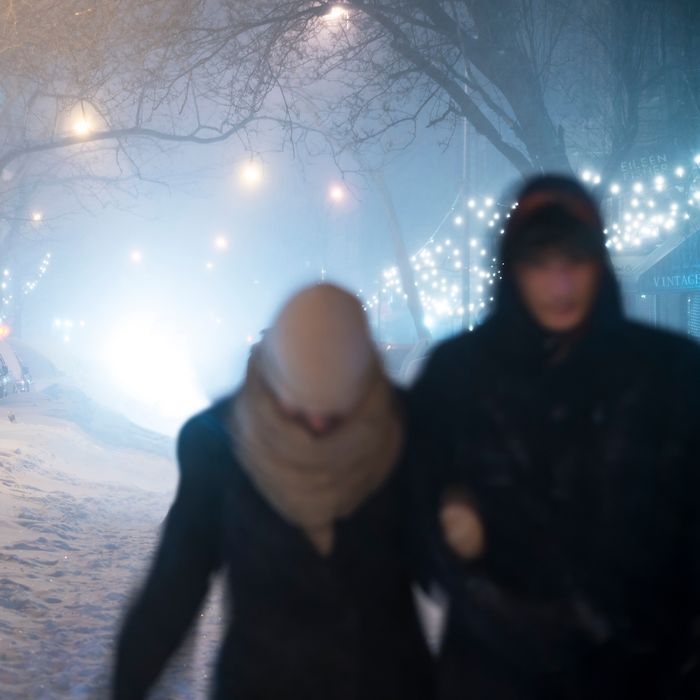 "Why waste the day alone when we can warm each other up." — Some dude in Queens
Photo: Toshi Sasaki/Getty Images
A blizzard watch has been issued for parts of the northeastern United States starting Monday evening, including New York City. If the storm — or Stella as it's being called by meteorologists, and by people on Twitter making the same A Streetcar Named Desire jokes on repeat — actually hits the city, New York is looking at up to a foot and a half of snow. So naturally, New Yorkers are now flocking to Craigslist to participate in what has become a time-honored tradition in inclement weather: looking for a blizzard "buddy."

Who wants to fuck during the blizzard? Looking for my horny people who want to get a motel room and fuck thru the Storm. Cover for room. Pic and stats. Hung men and bi women preferred!

Blizzard is coming maybe we can chill inside and keep each other company all nite and all day while we wait the storm out. I'll be the gentleman of course make sure house is stacked with snacks and everything else we will need. Just be good company is all I ask so who's down ??
A cursory search of the Craigslist personal section for terms like "blizzard," "snow," "Stella," and "I'd like to have sex with you mostly because my radiator is broken," currently yields plenty of results. This number is only likely to grow if and when Stella actually arrives. Each one sounds like a very legitimate proposition, too. Looking at you here 40-year-old dude in Brooklyn offering "tequila, 420, and freaky fun before the storm."


I have no plans so far for tonight. Be nice to meet someone new for a night out or in :) some FUN b4 the blizzard ; )
Not into any drama queens or anyone into any kind of games
Normal & sane & real male 4 normal sane real female.
chat and trading pics first is a must
some good fun conversation and couple of drinks would be a good simple way to start, or feel free to offer anything else more exciting ..

I'm looking for that attractive Caucasian woman who is around after work today and can provide som time together with me, getting to know one another. We can get together at my place for this evening and have a wonderful time. You will be rewarded for this enjoyable time. Would you consider sending your picture for a quick response.
Fair warning, should you go guy hunting through the personals on your own, there are a fair number of dick pics awaiting you. Significantly more, I'd say, than when people flocked to Craigslist in January 2016 during Winter Storm Jonas. (2017 truly is a desperate time.) If that's what you're looking for, congrats! If not, perhaps wait until you leave work to seek your storm companion. Plus, it'll give you something to do while standing in the miles-long line at your neighborhood grocery store.