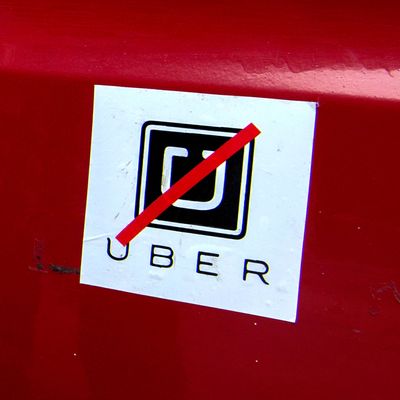 Photo: FADEL SENNA/AFP/Getty Images
Every SXSW festival has a moment that, in retrospect, defines it. In 2007, a new "micro-blogging" platform called Twitter used the event as its first major public showcase, solidifying the festival's status as a tech kingmaker. In 2010, a 23-year-old filmmaker named Lena Dunham won SXSW's best-narrative-feature award for her film Tiny Furniture, burnishing the festival's standing as a launching pad for major artists. In 2014, Edward Snowden Skyped into the conference to directly address an American audience for the first time, making it clear that SXSW could break news, too. And — unless something truly amazing happens in the coming few days — in 2017, a cadre of tech bros couldn't get an Uber and whined about it, cementing SXSW's reputation as a celebration of entitlement and expense accounts.
Last Saturday night, the busiest of SXSW's tech-focused "Interactive" segment, evening party-goers were faced with a double ignominy: pouring rain and service outages of Fasten and Ride Austin, two of the largest ride-hailing apps that have been operating in the city since Uber and Lyft left last May. "Austin is broken w/o Uber or Lyft," Tweeted Ryan Hoover, founder of Product Hunt. "What a disaster for #sxsw … like going back to the stone ages. Rent a car! Find parking! More traffic! Ugh. #austin," wrote angel investor Jason Calacanis. "Hey cities, here's a concept: before you ban Uber and Lyft, how about making sure there are enough cabs or other ways of getting around?" counseled Yahoo Tech columnist and former Times device-reviewer David Pogue.
It's easy to tweet hastily when you're dripping wet and anxious to get to the next party, but Pogue could at least get his facts right. Austin didn't ban Uber and Lyft. The companies chose to leave after Austin voters overwhelming rejected their attempt to push through more lax ride-hailing regulations. And while many people I know who live here miss the rock-bottom prices and convenience of Uber and Lyft, most find that there are quite enough cabs and other ways of getting around during the other 51 weeks of the year. Rather than shock us into changing our ways, the wail of the technorati seemed to confirm precisely what Austinites have come to resent about SXSW: that out-of-towners expect the city to function as their frictionless personal playground for one week a year, without giving any thought to the people who live here or how they might want to run their own town. Austinites might be caricatured as counterculture pinkos, but they're still Texans, after all. Pride of place runs deep and fierce.
Uber and Lyft came to Austin in 2014, first operating without permission, then with city council's provisional okay. The services were a boon for riders. They were much cheaper than yellow cabs, and seemingly much more plentiful, too. But when the City Council started discussing an ordinance to require ride-hailing drivers to submit to fingerprint background checks — a regulation required of taxi drivers — Uber and Lyft decided to play hardball. Uber targeted City Councilmember Ann Kitchen, who had introduced the fingerprinting bill — with an in-app option called "Kitchen's Uber," which limited users to hiring a horse and buggy for a flat fare of $50. As Uber's Texas spokesperson said at the time, Kitchen was trying to "impose 19th century regulations on 21st century technology."
The bullying failed to sway the other council members, and in December 2015, they passed the new ride-hailing regulations. So Uber and Lyft took their message to the people, badly misjudging what Austinites would find important. The companies spent $10 million on their ballot measure, Proposition 1, more than 57 times more than their opponents spent to fight it. But the anti-Uber crowd had the clearer message, and the better slogan: "Say No to Corporate Rule!" A fight that was ostensibly over whether fingerprinting drivers was a reasonable public-safety measure or an onerous regulation, became — amplified by Uber's bullying and Austin's lefty values — a battle over the city's soul. At stake, the Austin American-Statesman wrote in an anti–Proposition 1 editorial, was "whether it should be corporations or Austin's elected leaders that write the rules for doing business in the city." Was Austin, at its core, a city of tech conferences, high-rise condos, and destination bachelor parties? Or did it still have the scruffy anti-establishment spirit of patron saint Willie Nelson, the weirdos in Richard Linklater's Slacker, and the citizen-activists who had once banded together to fight real-estate developers and preserve the pristine waters of Barton Springs, the city's crown jewel? Austinites made their feelings clear, rejecting Uber and Lyft's ballot measure 56 percent to 44 percent.
There's no American city that hasn't faced these kinds of issues before, and none where longtime residents haven't fought against a perceived loss of identity. But Austin's transformation over the last couple of decades from a crunchy university town to a glamorous hub of industry has been particularly disorienting. The city's population has doubled since 1990, and the growth of the greater Austin area has been even more dramatic. Not one of the ten tallest buildings punctuating the downtown skyline stood before 2003. When SXSW began three decades ago, it was a local music festival organized by a few guys who worked at the city's alternative weekly newspaper. This year, it'll attract more than 70,000 people to the city, and seemingly every event will be sponsored by a Fortune 500 company.
What risks being buried under all the concrete and branding opportunities is the independence and attitude that attracted people here in the first place. "Keep Austin Weird" might be a dead rallying cry these days (Austin is not very weird anymore), but when the city flips the bird at the Man when it thinks it's getting a raw deal, it's a sign that Austin is still Austin. If the city sacrificed that to the festival-going experience of Silicon Valley honchos, it would just be a smaller, more humid Phoenix, or a prettier Charlotte with a less convenient airport. It would not be the kind of place where anyone would want to come for SXSW.
But fear not, techies. Our city's small-fry ride-hailing services are back up, and have been working relatively smoothly since Saturday night, even if reports of some software glitches and ride shortages persist. And this will almost certainly be the one and only SXSW without Uber and Lyft. The Texas state legislature is set to do what it often does when municipalities have the gall to regulate industry on their own: It'll pass a statewide law that supersedes and invalidates the city's ride-hailing ordinance. This very afternoon, the Texas Senate's Business and Commerce Committee is hearing three bills that would do just that. Later this week, the Texas House will begin considering a similar measure. One of these bills — which, of course, do not have fingerprinting requirements — is very likely to pass before June, and become law. This won't be a tragedy for Austin, even if it kneecaps the smaller ride-hailing start-ups here, which are generally seen as more driver-friendly. A lot of Austinites liked using Uber and Lyft, and it's hard to argue against the public good of having additional sober drivers on the road in a state that sees a nation-high 3,500 traffic deaths per year. But if Uber and Lyft are coming back, better that it's being imposed by the conservative Republican politicians with whom the city has often feuded. Better that Austin got to prove that even if it is increasingly what locals call the "New Austin," it's still Austin.