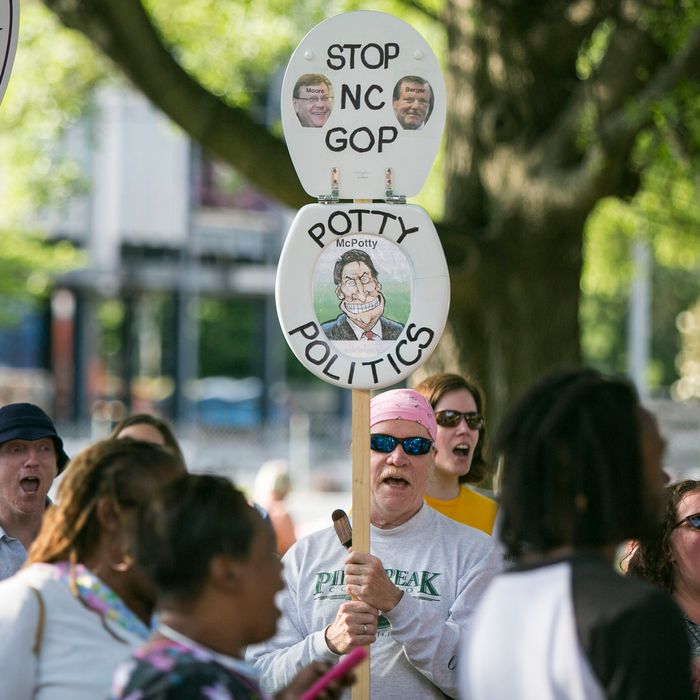 A anti-HB2 protest outside the North Carolina state legislative building in May.
Photo: Al Drago/CQ-Roll Call,Inc.
Faced with a deadline from the NCAA, which is about to decide where the 2018–2022 championships will be held, North Carolina lawmakers announced on Wednesday evening that they've reached a compromise on HB2, the so-called "bathroom bill" that says people must use the public restroom that corresponds to the sex on their birth certificate, among other restrictions on legal protections for lesbian, gay, bisexual, and transgender people.
The deal would repeal HB2, but leave the regulation of public facilities under state control. Local governments would be barred from passing their own anti-discrimination laws until December 2020.
Democratic governor Roy Cooper, who won thanks in part to the backlash against the law enacted a year ago, said he's in favor of the compromise. "l support the House Bill 2 repeal compromise that will be introduced tomorrow," Cooper said. "It's not a perfect deal, but it repeals House Bill 2 and begins to repair our reputation."
However, LGBT groups said the deal solves none of the problems with the current law. "The initiative is not a repeal," said Chris Sgro, executive director of Equality NC. "It's doubling down on the discrimination that HB2 exacts – it's HB2.0. It doesn't allow municipalities to protect people from discrimination till 2020."
Chad Griffin, president of the LGBT rights organization Human Rights Campaign, tweeted that any lawmaker who supports the bill will be held accountable:
Many businesses pulled out of North Carolina as a result of the bathroom law, and the AP estimated this week that it will cost the state $3.76 billion in the next 12 years.
It's unclear if the changes will be sufficient to convince businesses to return, or if the bill will even pass. The repeal faces several votes in the Senate on Thursday, and would then go to the House.