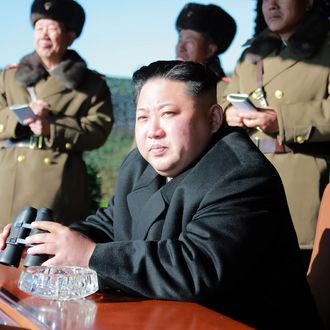 Kim Jong-un.
Photo: KNS/AFP/Getty Images
It's that time of year again; North Korea usually registers its displeasure over the annual U.S.-South Korean military exercises with some show of force, and on Monday it launched four ballistic missiles into the Sea of Japan. Three landed within 200 nautical miles of Japan's coastline.
U.S. and South Korean officials said they do not believe they were intercontinental ballistic missiles, but it shows the North is making advances toward its goal of producing an ICBM capable of hitting the West Coast of the U.S.
Last month North Korea test-launched an intermediate-range ballistic missile, which landed short of Japan's territorial waters. Analysts said it showed improved power and range, according to the Washington Post.
Carl Schuster, Hawaii Pacific University professor and former director of operations at the U.S. Pacific Command's Joint Intelligence Center, noted that the North has been testing missiles at a faster rate. "They did a launch a month ago, they're now launching (more) in 30 days, that's a third of the time they used to need," he told CNN. "Keep in mind if they're doing a test shot you want to keep some (missiles) in reserve in case you go to war, so you're shooting a missile that is operationally spare. That means their missile stockpiles are larger than they were before."
Both South Korea and Japan issued statements condemning the launch. "The launches are clearly in violation of Security Council resolutions. It is an extremely dangerous action," said Japanese Prime Minister Shinzo Abe.
President Trump recently tweeted about North Korea's nuclear ambitions, saying of its goal of creating a weapon that can reach the U.S., "It won't happen!" The White House has launched an internal review to determine how it should go about making that a reality. All options, including the use of military force, are reportedly under consideration.