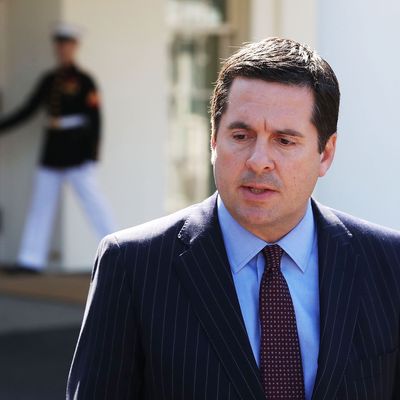 Devin Nunes, loyalist.
Photo: Mark Wilson/Getty Images
House Intelligence Committee Chairman Devin Nunes has come under fire this week for personally briefing President Trump on what he said was evidence that members of the Trump transition were legally surveilled by U.S. intelligence agencies. Nunes's briefing to Trump, which came before he told Democrats on the committee about the information, led the ranking member Adam Schiff, to question whether Nunes was working as a "surrogate of the White House."
New comments Nunes made to Sean Hannity Thursday about why he briefed Trump won't make Schiff feel any better.
"I felt I had a duty and obligation to tell him because as you know he's been taking a lot of heat in the news media," Nunes said on Hannity's Fox News show. "I think to some degree there are some things that he should look at to see whether in fact he thinks the collection was proper or not."
There are at least two problems with what Nunes says here. The first, and most obvious, is that Nunes, who was a member of Trump's transition, admits to feeling a "duty and obligation" to someone he is supposed to be investigating.
"I think he sent a signal that as a member of the Trump transition team himself, he probably should not be intricately involved in this investigation," Nancy Pelosi said at a news conference Thursday. She added that he was either "duped" or a "willing stooge" of the White House and called on an independent committee to investigate Russian meddling into the 2016 election.
The second problem is Nunes's suggestion that the information he shared with Trump would help the president defend himself from the "heat" he's taking in the news media. But as Nunes himself said on Wednesday, none of the information he has validates Trump's baseless claims that President Obama tapped his phones. The "heat" remains warranted.
Of course, that hasn't stop Trump from saying Nunes helped him feel "vindicated." And the president is not the only one distorting Nunes's information and using it to back up Trump's wholly different wiretapping claim. Check out the chyron running on Hannity during the interview.