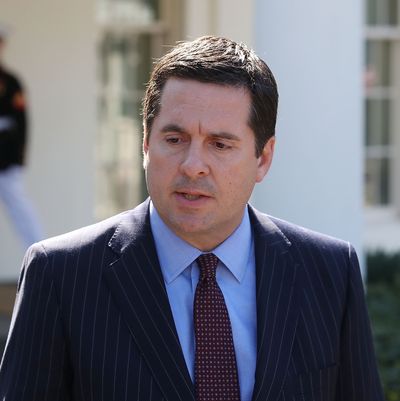 Nunes talks to reporters outside the White House on March 22, 2017.
Photo: Mark Wilson/Getty Images
Last week, Representative Devin Nunes, the chairman of the House Intelligence Committee, went to the White House to inform President Trump that members of his team had been incidentally surveilled during the last days of the Obama administration. That's perfectly legal, but Nunes claimed he'd seen intelligence reports where the Trump officials' names were not properly "masked."
After the meeting, reporters asked Nunes why he risked compromising the House investigation into Trump's alleged Russia ties by briefing the president even before the top Democrat on the committee.
"This is information that was brought to me that I thought the president needed to know about incidental collection," Nunes said. "I thought it was important that the president know this. That's why I briefed the speaker this morning, and that's why I came down here as soon as I could."
As it turns out, President Trump could have learned this information even sooner, if he'd just talked with the White House staffers who discussed it with Nunes a day earlier. On Thursday, the New York Times reported that Ezra Cohen-Watnick, the senior director for intelligence at the National Security Council, and Michael Ellis, an attorney who works on national security at the White House Counsel's office, shared the intelligence files with Nunes. Later, the Washington Post said Cohen-Watnick gathered the information while researching whether unmasking rules were being used properly. Sources said he brought the matter to the attention of John Eisenberg, the top lawyer for the NSC, but wasn't involved in sharing it with Nunes.
On Thursday night, Bloomberg's Eli Lake said that Nunes told him unspecified elements of those reports were inaccurate. However, he admitted, "I did use the White House to help to confirm what I already knew from other sources."
Earlier this week, Nunes told Lake that he secretly visited the White House on the night before his briefing because he and his source needed a secure location to review intelligence files. He said he got the information from an intelligence official, not a White House staffer. "It turns out, he misled me," Lake wrote.
Nunes's new claim that White House officials were merely backing up information he received from some other source doesn't jibe with his public statements. On Monday, CNN's Wolf Blitzer asked Nunes if he met with any of the president's aides during his secret trip to the White House. "No. And in fact, I'm quite sure that people in the West Wing had no idea I was there," the chairman said.
White House press secretary Sean Spicer has denied that Nunes met with White House staffers as well.
"I don't know why he would brief the speaker, then come down here to brief us on something that we would've briefed him on," Spicer said. "It doesn't really seem to make a ton of sense. So, I'm not aware of it. But it doesn't really pass the smell test."
Spicer's right. That does seem awfully fishy.