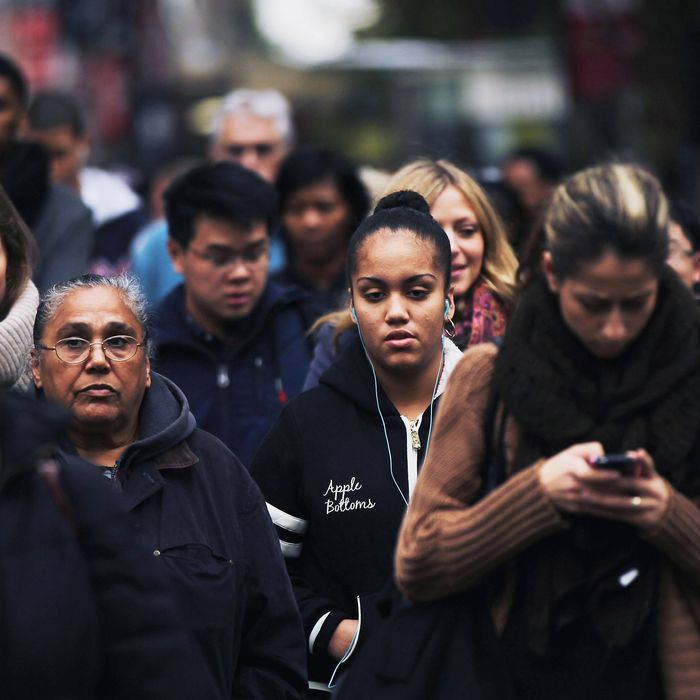 New Yorkers not committing crimes.
Photo: Spencer Platt/Getty Images
New York City's already low crime rate crept even lower in the month of February, with crime figures dropping nearly 10 percent in February 2017 versus February 2016. So far, crime this year is down 2.8 percent as compared to the first two months of 2016.
"This is about the ability of the NYPD to deepen its relationship with neighborhood residents," Mayor Bill de Blasio said at a press conference Wednesday. "A lot more information is flowing to the NYPD, allowing our officers to be more effective. That is one of the X factors here and why the city continues to get safer."
February saw 40 shootings, 85 rapes, 965 robberies, 1,287 felonious robberies, 878 burglaries, and 2,973 grand larcenies — all lower numbers than February last year. Murder was the only crime to see an uptick as compared to last February. There were 18 last year and 20 this year, but that number does come with a caveat. Five of the murders recorded in February 2017 were reclassifications of crimes previously committed.
Despite the drop in overall crime stats, hate crimes did rise year over year in February. These include swastikas drawn inside of subway cars and bomb threats against Jewish centers. "These threats are very troubling and very unsettling to members of the Jewish community and I want everyone who's concerned to know NYPD is highly focused," the mayor said.