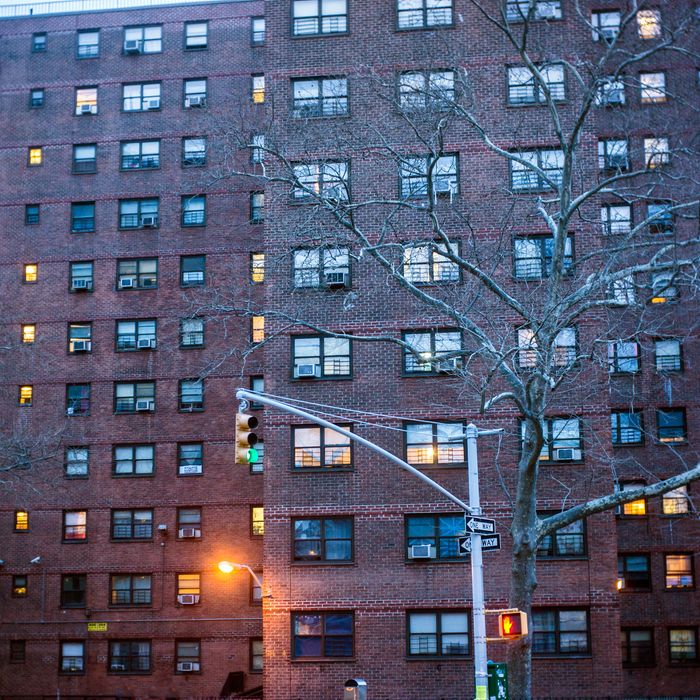 The massive NYCHA Elliot Houses complex of apartments in Chelsea in New York is seen on Saturday, February 16, 2013.
Photo: Richard B. Levine/Corbis via Getty Images
Ben Carson was sworn in as secretary of Housing and Urban Development Monday, delivering a rambling speech that, among other things, celebrated the "can-do" spirit. New York City's Housing Authority, at least, will now have to figure out if it can do with less federal funding — a slash of $35 million to the nation's largest and oldest public-housing system. The Wall Street Journal's Mara Gay, who first reported on the cuts, says this is the largest funding decrease NYCHA has faced in five years.
The cuts reportedly came down before Carson took control of HUD, but this bleeding out of funds may only be the beginning. NYCHA officials told the Journal that, based on talks with HUD officials, its federal monies could be slashed to the tune of $150 million, an amount that threatens further the already cash-strapped and crumbling public-housing system. NYCHA faces approximately $17 billion in unmet capital needs to repair the sprawling system's buildings, from leaky roofs to broken elevators.
HUD money still makes up almost two-thirds of the agency's $3.2 billion operating budget. And while other cities have demolished their housing projects, New York City is struggling to maintain its aging units for its approximately 400,000 residents. To make up for past shortfalls, the agency has started bringing in private investors to manage and repair buildings, and is embracing a controversial plan to let developers construct mixed-income residential towers on some NYCHA land.