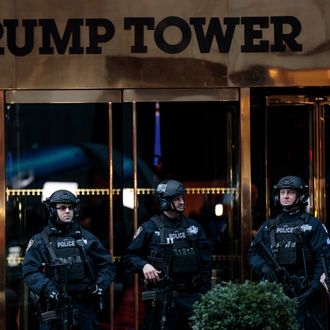 Counterrrorism in action.
Photo: Drew Angerer/Getty Images
Mayor Bill de Blasio blasted President Trump's budget for "undermining" the lives of New Yorkers. Governor Andrew Cuomo described it as a "wrecking ball." Based on initial estimates, the city stands to lose hundreds of millions in funding for public schools and public housing and even for phase two of the Second Avenue subway (which was supposed to be part of Trump's infrastructure plan).
The proposal would also slash approximately $190 million in Homeland Security funding from the NYPD's budget, much of it coming from a chunk of nearly $667 million cut from FEMA and local Homeland Security grant programs nationwide. "This funding is absolutely critical," NYPD Commissioner James O'Neill said Thursday. "It is the backbone of our entire counterterrorism apparatus. It is the cornerstone of preparedness and prevention against terrorist threats, and enables us to do what we can do to keep the city secure."
The NYPD uses those grants for counterterrorism investments such as the department's bomb squad, dog training, intelligence analysis, active training, and equipment for radiological and chemical attacks, says the New York Daily News.
The Department of Homeland Security, overall, gets an almost 7 percent boost under Trump's budget — most of which goes to building the big, beautiful border wall ($2.6 billion) and immigration enforcement. But cutting money from counterterror efforts in the nation's cities doesn't exactly make sense for a president that says his responsibility is to keep America safe.
Though New York City is also at risk of losing funding because of its "sanctuary city" status, it's unlikely that these particular Homeland Security cuts will play with Congress, particularly New York's delegation. Long Island Republican Peter King already said any reduction to New York City's funding is "dead on arrival."
"Everyone who lives in, works in, and visits New York City, this money's critical to keeping everybody safe," O'Neill also said, about the funding.
And speaking of, that includes Donald Trump's family. The NYPD spends a little more than $100,000 per day guarding Trump Tower when the First Lady and Barron are there, and about $300,000 when Trump is in town. This is as much for Trump as it is for everyone else in New York — by dint of the building being the commander-in-chief's residence, it remains a terror target. And the federal government has only picked up $7 million of the nearly $25 million tab that the then-president-elect racked up before Inauguration Day. To say nothing of the interruptions to the St. Patty's Day Parade route.