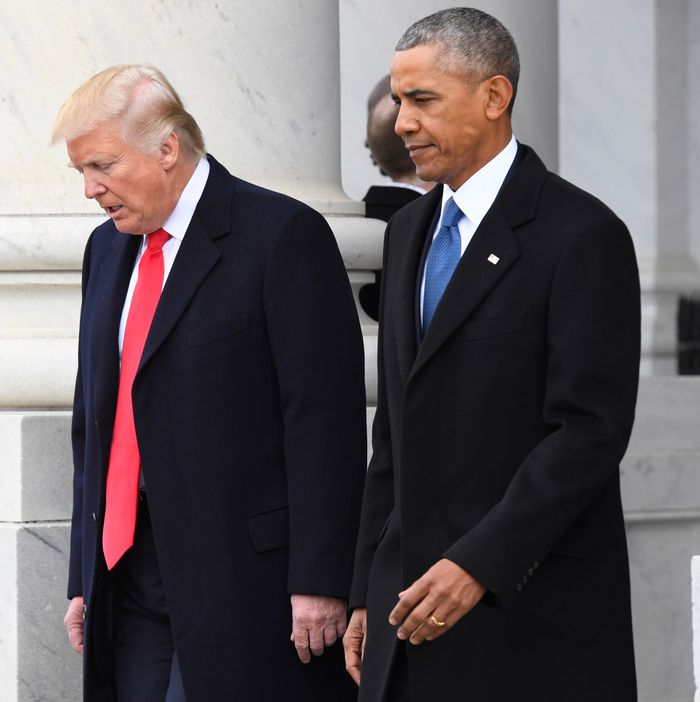 "I don't get it. Everyone listening in on our calls thought we had great chemistry."
Photo: Jack Gruber - Pool/Getty Images
Since Election Day, President Trump has often seemed torn between his passion for pushing Obama conspiracy theories and his excitement that the leader of the free world was being nice to him. Days after his Oval Office meeting with the Kenyan-born founder of ISIS, Trump told 60 Minutes that Obama is "terrific" and they have great "chemistry." A month later, Trump tweeted that Obama was undermining his transition, but claimed hours later, "We talked about it and smiled about it." Then in early February, Trump bragged to Bill O'Reilly that he and Obama "get along, I don't know if he'll admit this, but he likes me. I like him."
But Obama seems to be having a hard time laughing off his successor's evidence-free claim that he personally ordered the wiretapping of Trump Tower. The Wall Street Journal reports:
Keeping a low profile in post-presidency, Mr. Obama had decided he wouldn't respond to every intemperate Trump tweet, an aide said.

But he was livid over the accusation that he bugged the Republican campaign offices, believing that Mr. Trump was questioning both the integrity of the office of the president and Mr. Obama himself, people familiar with his thinking said.
Trump is reportedly having second thoughts about hurling felony accusations as well — though he still thinks Obama and his allies are working to undermine him. It appears the source of Trump's claim is an old, sketchy British report on a FISA warrant related to the Trump campaign, which was distorted as it passed through conservative media. According to the New York Times, Trump also appeared to be confused about certain presidential powers:
Mr. Trump, advisers said, was in high spirits after he fired off the posts. But by midafternoon, after returning from golf, he appeared to realize he had gone too far, although he still believed Mr. Obama had wiretapped him, according to two people in Mr. Trump's orbit.

He sounded defiant in conversations at Mar-a-Lago with his friend Christopher Ruddy, the chief executive of Newsmax Media, Mr. Ruddy said. In other conversations that afternoon, the president sounded uncertain of the procedure for obtaining a warrant for secret wiretaps on an American citizen.

Mr. Trump also canvassed some aides and associates about whether an investigator, even one outside the government, could substantiate his charge.
Trump settled for having the House and Senate intelligence committees add his wiretapping claim to their ongoing investigation of Russia's election meddling. The chairmen of those committees, who are both Trump allies, said they have yet to see any evidence to back up the president's accusation.
Regardless of their findings, it seems this may be the end of the Obama-Trump bromance. While 44 and 45 chatted on the phone several times during the transition, according to the Journal, Obama couldn't find time to talk while he was relaxing in the Virgin Islands:
They haven't spoken since, although Mr. Trump tried to call Mr. Obama to thank him for the traditional letter that one president leaves for his successor in the Oval Office. Mr. Obama was traveling at the time and the two never connected, people familiar with the matter said.
It's like Obama completely lost interest in their relationship once he wasn't required to be civil to Trump for the good of the nation.