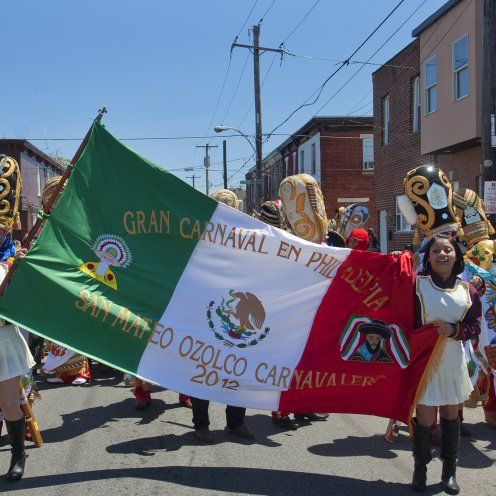 Marchers in the 2012 El Carnaval de Puebla parade.
Photo: R. Kennedy/GPTMC
Philadelphia's largest public celebration of the Cinco de Mayo holiday has been canceled out of fear that revelers would be targeted by Immigration Customs Enforcement (ICE) agents. Organizers, after reflecting on concerns within the Mexican-American community about an increasing number of immigration-enforcement raids being conducted throughout the country, made the "sad but responsible" decision to not go forward with this year's El Carnaval de Puebla. The annual parade and street party, one of the biggest Latin American events in the city, is typically attended by as many as 15,000 people and follows a route through Philly's heavily Latino Pennsport neighborhood.
"Everyone is offended by the actions of ICE," organizer Edgar Ramirez told NBC 10 News, adding that he and the other organizers "did not feel comfortable" holding the event, particularly since many people travel from other states to join the celebration and "we don't want anything to happen to them."

"ICE's enforcement actions are targeted and lead driven," an officer at the agency's office in Philadelphia insisted to NBC 10. "ICE does not conduct sweeps or raids that target aliens indiscriminately."

The agency announced last week that 248 people were in federal custody awaiting deportation after being caught in a two-week sweep across Pennsylvania, Delaware, and West Virginia.