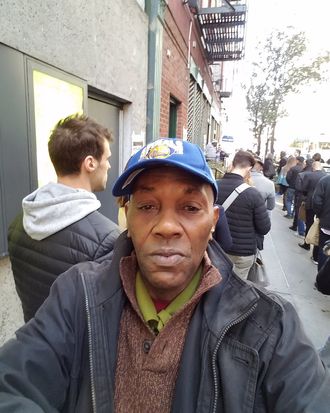 The victim, Timothy Caughman, tweeted this photo on Election Day with the caption, "Standing on line waiting to vote I love America."
Photo: timrock715/Twitter
On Monday night, a homeless man stumbled into a police station in midtown Manhattan with multiple stab wounds to his chest and back. Timothy Caughman, 66, was rushed to the hospital and later died.
Police released footage of a man running from the scene of the crime, and two days later James Harris Jackson, 28, turned himself in. Police say Jackson, a white man from Baltimore, told them that he murdered Caughman because he'd come to New York to kill a black man.
"His intentions were to come here to harm male blacks," NYPD Chief of Manhattan Detectives William Aubry said. "The reason why he picked New York is because it's the media capital of the world, and he wanted to make a statement."
Jackson accosted Caughman as he was sifting through trash in front of a row of restaurants on Ninth Avenue shortly after 11 p.m. on Monday, according to Jackson's statements and surveillance footage. Following an argument, Jackson stabbed Caughman, and then the victim managed to walk two blocks to a police station. Jackson threw his weapon — a 26-inch mini-sword — into the trash and went into a restaurant restroom to wash off the blood.
Surveillance video shows Jackson following another black man around Midtown before the attack, but it's believed that Caughman was the only victim.
Early on Wednesday morning, Jackson walked into the police substation in Times Square and said, "I'm the person you're looking for." He said he was carrying knives in his pocket and directed police to the murder weapon.
Aubry said Jackson was very forthcoming, revealing, "It's well over 10 years that he's been harboring these feelings of hate towards male blacks." According to the New York Daily News, Jackson belongs to a known hate group in Maryland.
Jackson entered the military in March 2009 and did a tour in Afghanistan. The Washington Post reports that he served as a military intelligence analyst and was discharged in August 2012 with the rank of specialist. Other details about his background have yet to be released.
Jackson was charged with second-degree murder, and Aubry said they want to bring hate crime charges as well.
Caughman was living in a homeless shelter on West 36th Street. On his Twitter account he describes himself as a "can and bottle recycler" and "autograph collector," and he posted several photos of himself posing with celebrities.
"More than an unspeakable human tragedy, this is an assault on what makes this the greatest city in the world: our inclusiveness and our diversity," said Mayor Bill de Blasio.