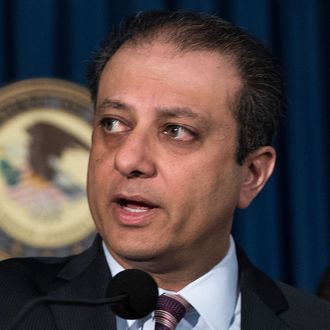 Prof Preet.
Photo: Drew Angerer/Getty Images
It didn't take long for former U.S. Attorney Preet Bharara to get a new job. The former prosecutor, who was fired by the Trump administration earlier this month, will join the New York University School of Law as a distinguished scholar in residence starting April 1. Bharara confirmed the news on Twitter:
Bharara has been a hot commodity since his termination a little more than a week ago. According to The Wall Street Journal, the former prosecutor fielded offers from Columbia and Harvard, as well as some big, white-collar firms. There's also been speculation that Bharara might insert some drama into the New York political scene, though he's said before he has little interest in running for elected office. The odds of him mounting a very late 2017 Democratic challenge against Bill de Blasio — who was cleared in his federal and state investigations about a week after Bharara's ouster — are next to none. But the prospect of taking on Governor Andrew Cuomo again, this time in the 2018 statewide race, sure is tantalizing.