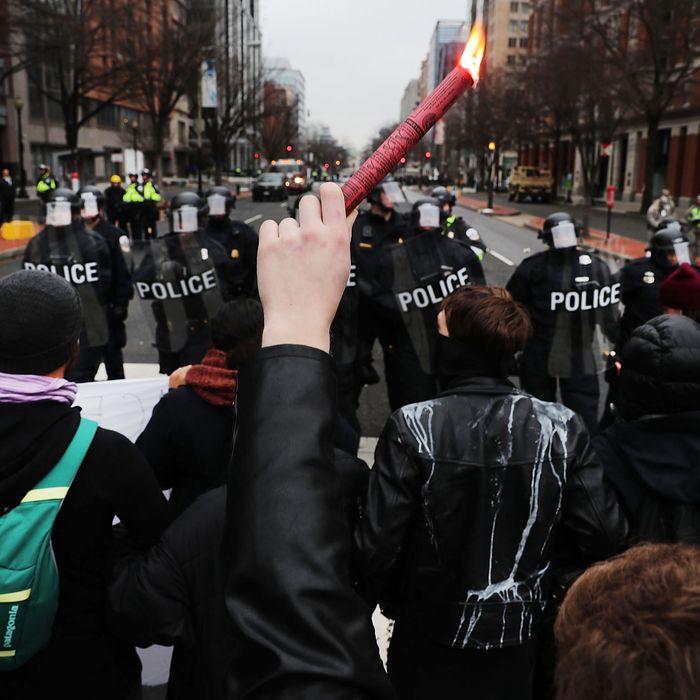 Photo: Spencer Platt/Getty Images
Prosecutors in Washington, D.C., filed court papers on Wednesday to pull data from 100 locked cell phones belonging to people arrested in the aftermath of President Trump's inauguration. Over 200 people were arrested on felony-rioting charges in January during the protests, a charge that could yield a maximum sentence of ten years in jail, or a $25,000 fine. According to the filing, the prosecutors plan to use "all of the data from cell phones seized and searched as evidence" in the ongoing case.
Despite all of the phones in question being locked, it appears the prosecution has been able to garner data from the devices, BuzzFeed News reports. It is, however, unclear as of now exactly how the prosecution has been able to access the locked phones. (Remember the lengthy legal battle surrounding the FBI and Apple over breaching the San Bernardino shooter's phone.) Depending on the kind of security mechanisms used (fingerprint versus numeric passcode) and the devices themselves (iPhone versus Android), the prosecution could find themselves struggling to access everything they want or need to build their case.
The data, as per the filing papers, will also be available, via an "electronic database," to the defense. Any "sensitive personal information" found in the search will be deemed off-limits. Defense counsel for each of the 214 people charged in the case will be able to access data pulled from the phones of other defendants involved, though they will be prohibited from sharing any information not deemed directly relevant to the case. Earlier this month, a number of the defendants sought to have the rioting charges dropped, BuzzFeed News also reports. Despite those attempts, the case will continue in the court system in the coming weeks.