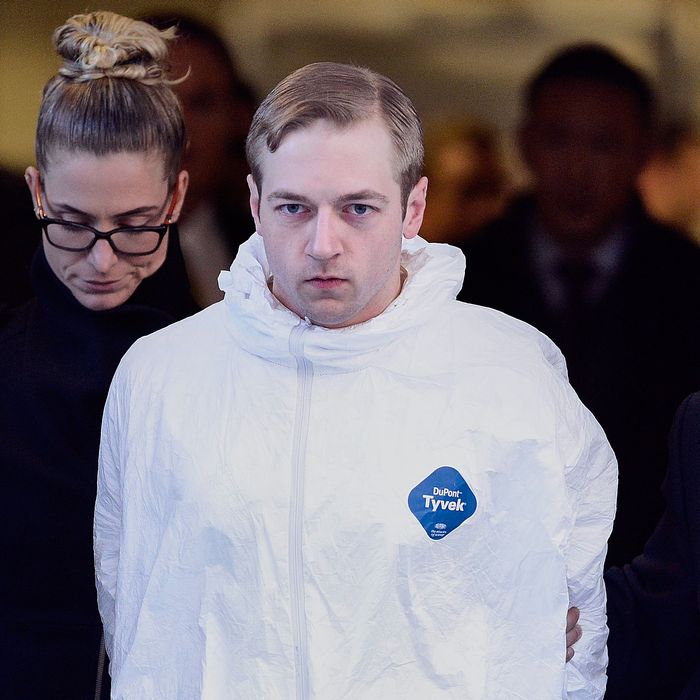 James Harris Jackson is an Army veteran who served in Afghanistan.
Photo: James Keivom/NY Daily News via Getty Images
James Harris Jackson, a 28-year-old military veteran from Baltimore, is accused of fatally stabbing a 66-year-old black homeless man in Hell's Kitchen with a miniature sword last week. The attack was captured on surveillance footage, and two days later Jackson turned himself in, telling police that he had come to New York City to "harm black males."
On Monday, Manhattan prosecutors upgraded the charges against Jackson to include murder as an act of terrorism, an addition to the hate-crime murder charge he had already been facing. The Manhattan district attorney's office said Jackson intended to "launch a campaign of terrorism." The charge of terrorism as murder carries a mandatory life sentence.
Jackson described the murder of his victim, Timothy Caughman, as a "practice run" to the New York Daily News for a bigger attack against black men. (In surveillance footage, Jackson appeared to stalk another black man after he killed Caughman, but he said he got "spooked.") Jackson said he had harbored racist thoughts since his youth, but he was particularly incensed by interracial relationships. Jackson said he regretted targeting his elderly victim, and wished he had killed "a young thug" or "a successful older black man with blonds … people you see in Midtown. These younger guys that put white girls on the wrong path."