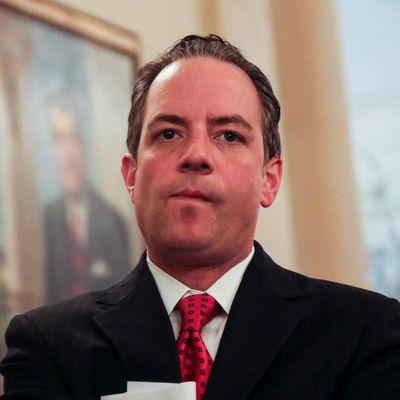 America would already be great again, if it weren't for Priebus.
Photo: Aude Guerrucci - Pool/Getty Images
President Trump spent the weekend "steaming, raging mad," according to the Washington Post. Rather than basking in media adulation for managing to speak for 90 minutes on Tuesday night without launching into a tirade about "fake news," the White House spent the week dealing with the fallout from the revelation that Attorney General Jeff Sessions met with the Russian ambassador, though he told Congress under oath that he didn't. Then over the weekend, a new firestorm erupted after President Trump claimed, with no evidence, that President Obama wiretapped him.
Clearly, this is all Reince Priebus's fault. Or at least, that's the popular view within the Trump administration.
According to the latest dispatch from history's leakiest White House, many blame the chief of staff for the dysfunction of the last six weeks. "It's sheer incompetence," a White House official told Politico. "There's a lack of management, and a lack of strategy."
So, what are Preibus's heinous transgressions? Sources complained to Politico that his morning meetings are a waste of time:

Some contended that, in such a free-wheeling atmosphere, Priebus has struggled to provide structure. Several aides expressed unhappiness with the daily 8 a.m. senior staff meeting that he runs out of his office. With three flat screen TVs usually on, the agenda is sometimes driven by that day's news programs. The gatherings, which often last only between 15 and 20 minutes, are typically organized round-robin style, with department heads giving 30-second updates on whatever it is they're working on.
He keeps nagging employees not to leak embarrassing stories to the press, which the leakers find pretty irritating:
Some staffers roll their eyes as Priebus reiterates the need for them to not leak to the press, or as he stresses that if they want to talk to the president they need to go through him or one of his lieutenants, Katie Walsh.
Rather than doing a Sorkinesque walk and talk, he runs around the West Wing:
They point to his habit of sprinting into meetings — "He literally runs," said one senior administration official — which has led top aides to believe that he is trying to edge his way into their conversations or monitor their discussions with the president.

Preibus keeps trying to hire people he trusts, and wants to keep people he clashed with during the campaign out of the West Wing (though former Trump campaign manager Corey Lewandowski managed to meet with the president last month anyway):
There is a growing sense, too, that Priebus is trying to stack the administration with people who are loyal to him – many of them establishment Republicans he grew friendly with during his Republican National Committee chairmanship - while trying to keep out others. Multiple staffers say there is lingering resentment over the hire of communications director Michael Dubke, an ally of a Priebus lieutenant, press secretary Sean Spicer.
Also, he forgot to schedule a Black History Month event, which might have created the impression that President Trump isn't aware of the "amazing job" being done by African-Americans like Frederick Douglass.
During a communications team meeting in late February, Omarosa Manigault, the former "Apprentice" contestant-turned-White House official, complained that Trump, at that point, had not yet held a Black History Month reception with African-American leaders – and pointedly criticized a Priebus lieutenant for the failure to schedule the event, according to three people briefed on the incident.
Preibus does have his defenders — specifically, the White House press office, which is chock full of those loyal to the former Republican National Committee chairman. The White House offered Politico multiple statements defending Preibus. Jared Kushner, Trump's top aide and son-in-law, said Priebus "continues to be a strong and effective leader."
There's evidence this isn't the case, aside from his co-workers' anonymous complaints about his management style. Despite his disdain for anonymous sources, on Friday Priebus spent an hour on the phone with reporters, trying to convince them that President Trump hadn't upbraided his senior staff in the Oval Office. According to the Post:
As reporters began to hear about the Oval Office meeting, Priebus interrupted his Friday afternoon schedule to dedicate more than an hour to calling reporters off the record to deny that the outburst had actually happened, according to a senior White House official.

"Every time there's a palace intrigue story or negative story about Reince, the whole West Wing shuts down," the official said.

Ultimately, Priebus was unable to kill the story. He simply delayed the bad news, as reports of Trump dressing down his staff were published by numerous outlets Saturday.
So despite Priebus's frequent admonitions about leaking, his colleagues told the press that the president actually did yell at the chief of staff — and then he tried to lie about it.