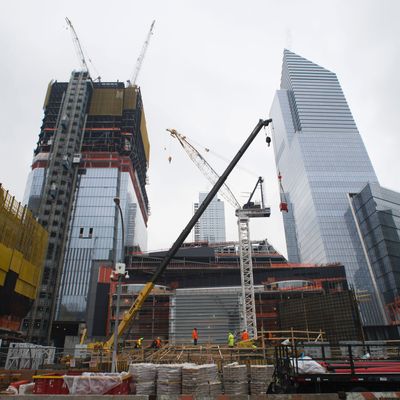 The Hudson Yards development will be added to rental supply before long.
Photo: Don Emmert/AFP/Getty Images
Manhattan renters caught a rare break in February as prices fell across the board — the first time that's happened in nearly five years, according to a new report from brokerage Douglas Elliman.
Median rents dropped on apartments of all sizes, falling nearly 1 percent in total, to $3,350.The decrease even hit studios, which are typically more resistant to price drops than larger digs, Bloomberg says. The median price of a Manhattan studio was $2,500 last month, the lowest it's been in more than two years.
Brooklyn saw a year-over-year drop in prices too, with a median rental price of $2,715. Same for northwest Queens, where the median rental dropped 5 percent, to $2,800.
Credit for the price drop is attibruted, in part, to increased inventory. Manhattan rental listings jumped by 11.7 percent in February, with 6,872 apartments on the market at the end of the month. That increased competition had landlords doing more than dropping prices to entice renters. About 26 percent of leases in February came with a concession, typically a month's free rent or owner-paid brokerage fees.
But some renters wanted even more, Douglas Elliman broker Melinda Sicari told Bloomberg: "In the months of January and February, we had customers requesting three to four months free, which is pretty unheard of."