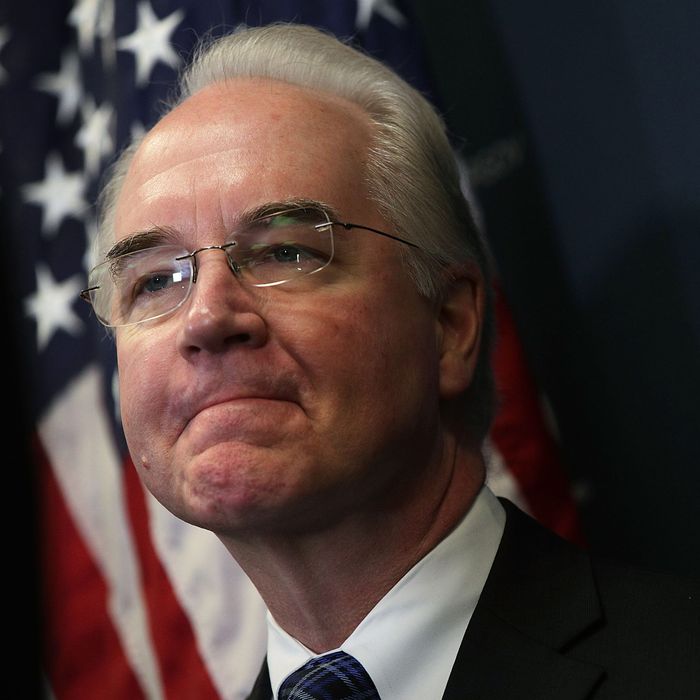 The Price is wrong?
Photo: Alex Wong/Getty Images
Shortly after winning the presidency, Donald Trump met with U.S. Attorney for the Southern District of New York Preet Bharara at Trump Tower. When Bharara left the meeting, he informed reporters that the president-elect had asked if he were willing to remain in his post, and that he had answered in the affirmative.
Just under two months into Trump's presidency, the White House asked Bharara and 45 other U.S. Attorneys to resign. Bharara refused to tender his resignation. He was then fired.
Bharara announced his unemployment on Twitter, and then posted this enigmatic remark:
In 2013, New York governor Andrew Cuomo launched the Moreland Commission, to investigate corruption in the Empire State's government. But the commission's investigation brought it too close to the governor's office for Cuomo's comfort, and he ordered it disbanded.
Bharara's implication, then, was that his office was investigating something that the White House preferred to keep quiet.
It's far from clear that there is a basis for Bharara's insinuation. It is standard for new presidents to replace U.S. Attorneys with their own appointees.
However, Bharara's office was reportedly investigating Fox News for an array of potential crimes, including whether the network's executives committed wire fraud by allegedly hiding financial settlements paid to women who had accused Roger Ailes of sexual harassment.
But Rupert Murdoch & Co. may not be the only Trump allies who stand to benefit from Bharara's dismissal: The former U.S. Attorney was overseeing an investigation of Health Secretary Tom Price's stock trades prior to his firing, according to a source who spoke with ProPublica.
In December, the The Wall Street Journal reported that the former congressman had traded more than $300,000 worth of stock in health companies over a four-year period — during which he pushed legislation that could have benefited those companies.
Since then, three of Price's trades have drawn heightened scrutiny:
(1) In March 2016, Price bought $15,000 worth of stock in Zimmer Biomet, a medical-device company. Two days later, the congressman introduced a bill that would have protected that company from a cut in its Medicare reimbursement rate. Zimmer Biomet then put money in his campaign coffers.
(2) That same month, Price purchased thousands of dollars worth of stock in six pharmaceutical companies — and then led a legislative and public-relations effort to defeat regulations that would have (almost certainly) hurt those companies's profits.
(3) Last summer, Price made a bulk purchase of discounted shares in Innate Immuno, an Australian biotechnology company. Shortly thereafter, he helped push through legislation that expedites the FDA's approval process — a reform that directly benefits Innate Immuno, which is working to get its wares onto the U.S. market. Price has already enjoyed a 400 percent paper gain on his investment in the company.
At his confirmation hearings, Price was asked about how he managed to get that discount on Innate Immuno's shares. The congressman replied that the discounted shares "were available to every single individual that was an investor at the time."
Weeks later, The Wall Street Journal found that "the cabinet nominee was one of fewer than 20 U.S. investors who were invited last year to buy discounted shares of the company — an opportunity that, for Mr. Price, arose from an invitation from a company director and fellow congressman."
In January, Democratic Representative Louise Slaughter asked the SEC to investigate Price's trades, arguing that there was reason to suspect that he had violated the STOCK Act — a 2012 law that bars members of Congress from using nonpublic information for personal profit.
The source who spoke with ProPublica did not specify precisely what trades — and potential legal violations — Bharara's office was investigating.
Bharara's former deputy, Joon Kim, currently presides over the office. But Trump is expected to have his own appointee in place in a matter of weeks.