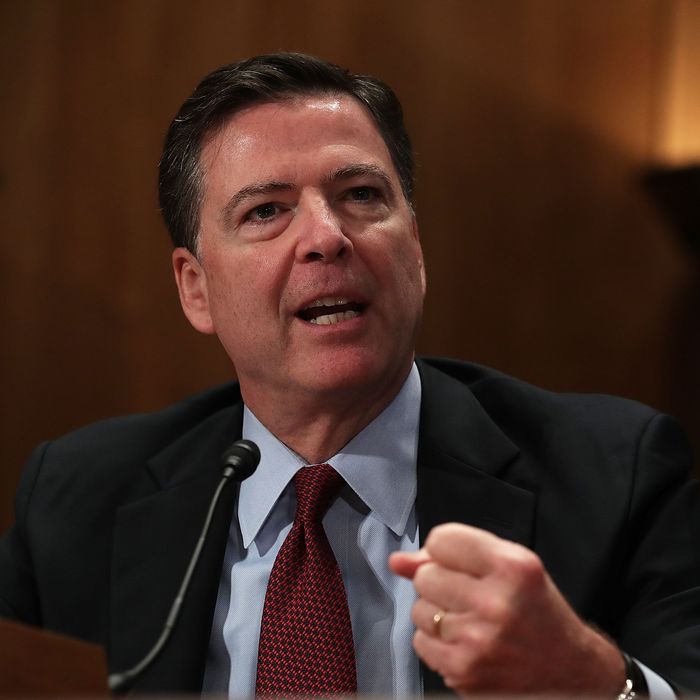 Look who's upset about an unsubstantiated allegation …
Photo: Alex Wong/Getty Images
FBI Director James Comey unsuccessfully lobbied the Justice Department to publicly reject President Trump's unsubstantiated allegation that President Obama ordered a wiretap on him, according to the New York Times and NBC News. Citing anonymous senior American officials, the Times reports that Comey starting pushing for the rebuttal on Saturday following Trump's early morning Twitter rant, in which the president said that he had "just found out" that Obama had ordered a wiretap on him during the 2016 presidential campaign, but without citing any evidence for the claim (which Obama's spokesperson has categorically denied). Comey apparently argued that Trump's false allegation, which could not be supported by evidence, implied that the FBI had broken the law and had to be corrected. Comey's campaign seems to have failed, however, since the Justice Department has remained silent about Trump's wiretap allegations — though as the Times points out, it's not clear who at Justice would approve or issue such a statement now that Attorney General Jeff Sessions has recused himself from the investigations.
No evidence has been provided by either Trump or the White House to back up the wiretap claim, which almost certainly entered Trump's head via a conservative radio host's conspiracy theory. Nonetheless, the White House is pushing forward with the idea, and the president has even called on Congress to investigate the matter, though the wiretap claims have done little to distract from the investigation into possible ties between the Trump campaign and the Russian government.
Indeed, one of the concerns put forward by senior FBI officials to the Times is that Trump's false allegation will actually make the public more suspicious of the president, in that officials are also "said to be worried that the notion of a court-approved wiretap will raise the public's expectations that the federal authorities have significant evidence implicating the Trump campaign in colluding with Russia's efforts to disrupt the presidential election."
Obviously, the director of the FBI seeking a public rebuke of a sitting president is yet another unprecedented turn of events for the Trump era, but if there is one person who's familiar with unprecedented breaches in protocol, it's James Comey.