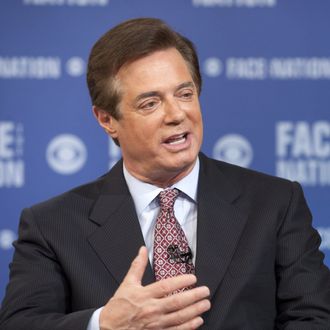 Paul Manafort.
Photo: CBS Photo Archive/Getty Images
Paul Manafort, former campaign manager for Trump and man of many alleged Russian entanglements, has reportedly engaged in a series of questionable New York City real-estate deals. WNYC examined Manafort's transactions going back 11 years, and found they raised some red flags that law-enforcement and real-estate experts say "fit a pattern used in money laundering."
According to WNYC and an earlier analysis by two attorneys at 377union.com, Manafort bought three homes in New York City between 2006 and 2013, paying for each in cash through shell companies that he set up for those transactions:
Then, between April 2015 and January 2017 – a time span that included his service with the Trump campaign – Manafort borrowed about $12 million against those three New York City homes: one in Trump Tower, one in Soho, and one in Carroll Gardens, Brooklyn.

Manafort's New York City transactions follow a pattern: Using shell companies, he purchased the homes in all-cash deals, then transferred the properties into his own name for no money and then took out hefty mortgages against them, according to property records.
Manafort told WNYC that "my investments in real estate are personal and all reflect arm's-length transactions." The WNYC report doesn't say that Manafort is actually laundering money, only that such deals are sometimes associated with shady financial dealings. Keep in mind the New York Times report from last year that handwritten ledgers found in Ukraine, dating from 2007 to 2012, showed $12.7 million in undisclosed cash payments intended for Manafort from ex-president Viktor Yanukovych's pro-Putin political party.
The timing of some of the real-estate deals also raises suspicions. For example, Manafort bought his Trump Tower apartment in 2006 in all cash through a shell company. He made the purchase the same year that he allegedly signed a $10 million contract with Oleg Deripaska, a Russian oligarch and Putin crony. A recent AP report says that while Deripaska was his client, Manafort drew up a secret memo for him that outlined strategies to promote the Putin government abroad by doing things like influencing news coverage and politics — something that might sound familiar.
The site 377union.com also found that Manafort borrowed $7 million against his Carroll Gardens home — and recent eyesore for local residents — which he purchased for $3 million. Per WNYC:
The loans – dated January 17, three days before President Trump's inauguration – were made by a Chicago-based bank run by Steve Calk, a Trump fundraiser and economic advisor.
Debra LaPrevotte, a former FBI agent who analyzed the reports for WNYC, said the transactions are legit if the money was "clean." But, she said, "if the source of the money to buy properties was derived from criminal conduct, then you could look at the exact same conduct and say, 'Oh, this could be a means of laundering ill-gotten gains.'"
Manafort has agreed to testify before the House Intelligence Committee, which is tasked with investigating Russia's alleged meddling in the 2016 election. His former Russian billionaire client, Deripaska, has also said he would testify before Congress about his relationship to Manafort.