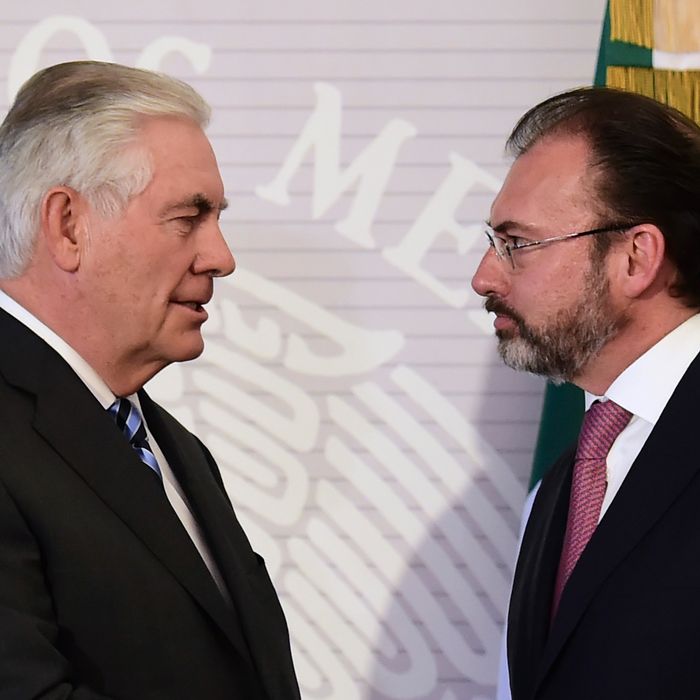 You chose Kushner over me?
Photo: Ronaldo Schemidt/AFP/Getty Images
Rex Tilleron's State Department cannot catch a break. America's apparently media-shy top diplomat is about to kick off a big Asia trip next week, but he's getting flak for failing to invite the press. And though the agency just resumed daily press briefings after a hiatus that dates back to Secretary of State John Kerry's last day, these sessions haven't done much to dispel the sense that the agency is being sidelined by the White House.
The latest evidence came Thursday, when the State Department's acting spokesman Mark Toner said, that he was "unaware" that the Mexican foreign minister Luis Videgaray was in Washington, D.C., for discussions. Videgaray, instead, met with White House officials, and it appears he might not have given his counterpart Tillerson a buzz to let him know he was in town — a departure from the usual protocol. "And I'm not sure — I can't speak to whether there's going to be any meetings at the State Department at any level," Toner added, when asked if Videgaray would meet with agency officials.
Videgaray did meet with top White House aide and President Trump's son-in-law Jared Kushner, who has reportedly worked behind the scenes before with the Mexican minister. National Security Adviser H.R. McMaster and Trump financial adviser Gary Cohn also sat down with Videgaray.

According to the Los Angeles Times, Videgaray later said that he did call Tillerson to inform him of his D.C. visit, perhaps indicating some confusion or miscommunication at the upper levels of State. (Toner is a holdover from the previous administration; he will reportedly be replaced by Fox & Friends anchor Heather Nauert.) Videgaray added that he and Tillerson — who made the trip to Mexico City in February with Department of Homeland Security Secretary John Kelly — would meet in the coming weeks, but that, on this particular trip, he had a specific issue to discuss with the White House: a suggestion from the Department of Homeland Security that the U.S. would consider separating children from parents who were caught crossing the border illegally, as a deterrent to families.
Videgaray said Thursday that the White House assured him that the policy wasn't finalized. "They said this is something they're only thinking about," he explained. "This is not a decision."