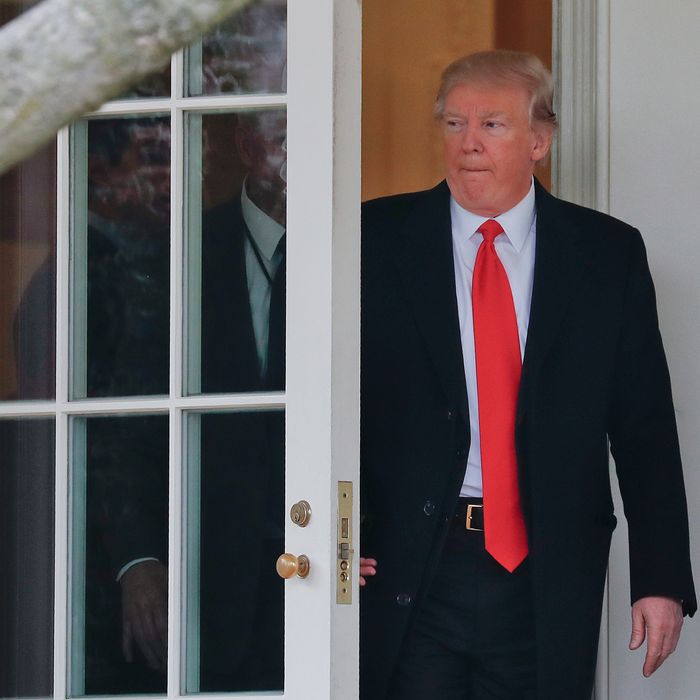 Trump leaving the White House for Florida on Friday.
Photo: Pablo Martinez Monsivais/AP
President Trump reportedly went "ballistic" on his senior staff Friday, venting his frustration over Attorney General Jeff Sessions's recusal of himself from investigations related to the Trump campaign's potential ties to Russia, as well as over the general onslaught of news stories pertaining to those ties. According to leaks via unnamed White House officials to ABC News and others, Trump apparently feels that Sessions's sudden recusal was uncalled for and only encouraged the administration's enemies. A Politico source explained that Trump didn't like Sessions's recusal because it made it seem like the attorney general, and thus the Trump team, had done something wrong. A source also added that Trump is "tired of everyone thinking his presidency is screwed up," and told his staff that he expects them to do a better job fighting back.
One senior White House official summarized to ABC that, "We should have had a good week. We should have had a good weekend. But once again, back to Russia."
Following the Friday meeting, White House Chief of Staff Reince Priebus and Chief Strategist Steve Bannon canceled their plans to go with Trump to the president's Mar-a-Lago resort in Florida, though it's not clear whose idea that was, and it appears that Bannon eventually left for Florida on Saturday afternoon anyway. Trump's senior advisor Jared Kushner; the president's daughter, Ivanka; White House Press Secretary Sean Spicer; communications director Mike Dubke; and White House counsel Don McGahn were also in attendance on Friday.
If the takeaway of the meeting was to fight back, Trump may have been trying a new tactic himself on Saturday when he claimed, in an evidence-free early-morning Twitter rant, that President Obama had ordered wiretaps of Trump Tower before the election. Obama's spokesperson has categorically denied Trump's new claim, which seems likely to have been based on a new right-wing conspiracy theory that White House staffers were circulating on Friday.