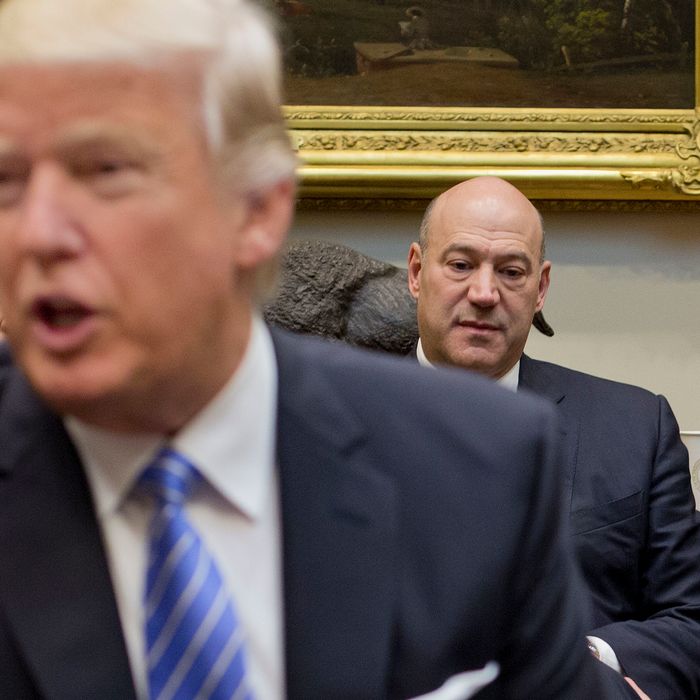 Gary Cohn, center photo, if not center stage.
Photo: Pablo Martinez Monsivais/AP
Gary Cohn, the former Goldman Sachs executive (and registered Democrat) who serves as President Trump's top economic policy advisor, is gaining clout amid the seemingly endless infighting at the White House, according to insider accounts via dueling stories in the New York Times and Washington Post. Cohn is allegedly more liberal than most of President Trump's inner circle, and along with former Goldman exec Dina Powell, has apparently gained the trust of — and an alliance with — Jared Kushner and Ivanka Trump. But the Cohn-led cadre is also being derisively referred to as "the Democrats" by their more ideological peers in the White House, and the Post adds that the populist Steve Bannon has now found a new ally in former rival Reince Priebus, partially in response to the rise of the New York/Goldman wing.
Fox Business reported last week that Bannon and Cohn are in the middle of a bitter policy fight, which started over trade policy and now also extends to other economic and tax policies, and that the tension has "eclipsed" the previously dominant tension between Bannon and Priebus. Sources told Fox that the loser of the Cohn/Bannon fight could be the first major casualty of Trump's senior staff (apparently forgetting all about former national security adviser Michael Flynn). One insider told Fox that Bannon and Cohn "may like each other but the situation is getting toxic and nobody wants to get in between that feud."
Who's winning? According to the Post's sources, it's Bannon's Team Ideologue. The paper cites a telling choice Trump had to make last Wednesday between a visit south to the grave of Über-populist former President Andrew Jackson (definitely Bannon's idea), or heading north to a Broadway musical at the invitation of Canadian prime minister Justin Trudeau (the New York Wing's preference). Ultimately, Trump dismissed the musical idea and went to Nashville, where he laid a wreath at and saluted Jackson's grave, then went to another campaign-style rally with his supporters.
Also, keep in mind that these are not the first insider accounts from unnamed White House sources to connect Ivanka Trump and Jared Kushner to the idea of moderate influence on the president and to allude to a feud (one that's been leaked to the nation's two biggest newspapers) that infighters are trying to draw attention to — or advantage from. As Axios pointed out on Sunday, there will likely be another round of leaked accounts responding to these reports.
But while the conflict-addled Trump administration continues to stall and stutter when it comes to running, or even just staffing, the government, it also seems as though the president is more than content with the status quo. The Times reports that Trump, a former reality-television star, likes the infighting and perpetual struggle for his attention, as he believes it both makes his staff more competitive and ensures no one person obtains too much power.

This post had been updated to include the earlier Fox Business report.