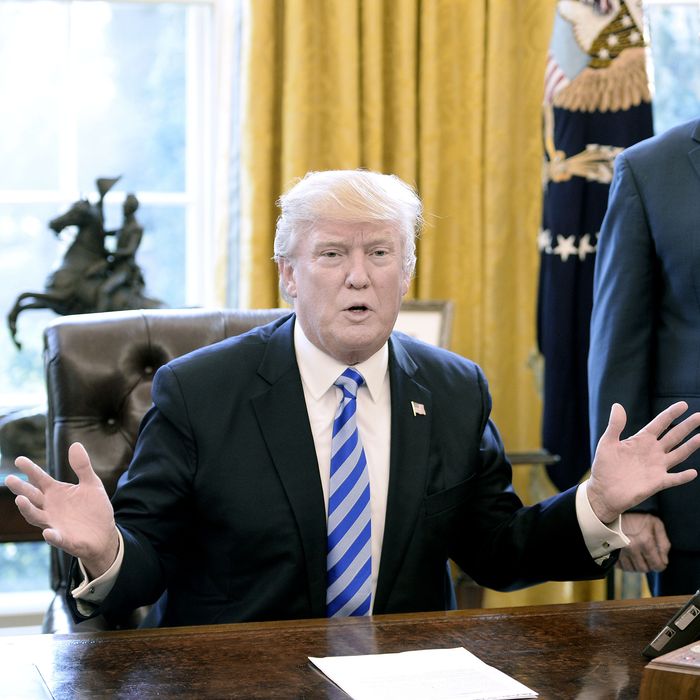 Trump's 2021 bestseller may be called The Art of the Shruggie.
Photo: Olivier Douliery-Pool/Getty Images
Following the spectacular failure of the American Health Care Act, it's now abundantly clear that President Trump's first 100 days in office will almost certainly not include a significant legislative victory for him or the Republican Party, despite their rare control of Washington, or their repeated promises to get rid of Obamacare. Furthermore, a central, self-made myth about Trump — that he is a master deal-maker — seemed to evaporate when it came to negotiating legislation. Indeed, insider accounts suggest that Trump's deal-making style likely hurt the AHCA more than it helped, as did his seeming lack of commitment to the actual process of policy-making and governing.
Here are some of the key takeaways (and leaked bits of gossip) that have emerged in the various postmortems published since the AHCA's demise on Friday.
Trump's Lack of Effort
Despite the proclamations of Paul Ryan, Sean Spicer, and others to spin Trump's participation in the AHCA push as some impressive feat of presidential prowess, several reports indicate that Trump was mostly disengaged from the process, divided over its merits, and only involved himself at the last minute, largely out of ego.
The perception among lawmakers and White House insiders was that Trump was never personally invested in the bill, repeatedly asking aides if they thought it was good or not, typically prompted by the consistently negative media coverage of the bill that Trump was watching, according to the Washington Post. Politico adds that the oft-distracted president would also interrupt conversations about the health-care push to bring up other issues.
The Times noted on Saturday that Trump only seems to have come to the full realization that the bill required his personal effort on Wednesday, a late admission that shocked others involved in the process. Before and after that point, the president did end up conducting a lot of face-to-face meetings and making a lot of phone calls in support of the bill. He did not, however, push the bill directly to his supporters at rallies or on television, which could have helped generate some bottom-up pressure for the legislation, particularly since it's Trump's base which has always intimidated his GOP opponents the most. As for the Democrats, Trump made no apparent effort to include them in the AHCA process — other than blaming them for its failure after the fact.
An unnamed top Republican who attended AHCA meetings with Trump summed up the suspicions of many to Politico:
[The White House's] heart was not in the healthcare battle. Think about the level of intensity on the executive orders for the travel ban, or on the wiretapping claims. He certainly checked the boxes on healthcare, to his credit. But it's self-evident there was not a certain level of intensity devoted to this.
In the end, Trump's efforts were too little, too late, and too lightweight to make a definitive difference, and by the time it was all over, Trump had not, as Spicer claimed on Friday, "left everything on the field."
In addition, insiders told Politico that Trump seemed relieved that the short, dramatically fruitless health-care push was now over, with one White House official saying that, "No bullshit, I think he's actually pretty comfortable with the outcome. He wants to move ahead and do taxes."
Trump Only Cared About Winning, Not Policy, Procedure, or Governing
"Nobody knew healthcare could be so complicated," Trump told a group of governors in February. A month later, when the president finally decided to embrace his role in the legislative process and try to whip up support for the AHCA bill, Trump deployed a messaging strategy that was light on substance, heavy on Trump. Rather than assuage the policy concerns of skeptical Republicans, Trump often bullied them instead, asking them how well he did in their districts and telling them how badly the bill's failure might hurt them, and him, politically.
"Forget about the little shit," Trump reportedly said to a group of 30 representatives who had come to the White House. "Let's focus on the big picture here," and by big picture Trump meant his reputation, his agenda, and his chances at reelection.
Motivated by the desire to win, perhaps exclusively, Trump was unable to address specific policy issues when talking with members of the House GOP or conservative groups, and was just trying to play — and enjoy — the role of closer. Trump "didn't know, didn't care, or both," when it came to details, according to a congressional aide who spoke with CNN. A GOP congressmember added that the president "did very little to say why we should vote 'yes,'" and "kept talking about his damn election."
It's not clear how detail-oriented Trump's real-estate negotiations were as a businessman, but his approach to legislative negotiation was decidedly style over substance. Reports the Post:
He cajoled and charmed uncertain members, offering flattery and attention to some and admonishment and the vague threat of political retribution to others. He invited members to the White House for bowling sessions, gave others rides on Air Force One (complete with ­lasagna) and grinned for pictures in the Oval Office, where he reminded lawmakers of his margins of victory in their districts.

But legislating, it turned out, was different from cutting deals to splash his name across skyscrapers.
Trump's tactics were, of course, ultimately ineffective, which isn't surprising when considering how poorly the AHCA, and Trump himself, have been faring in opinion polls. For the House Freedom Caucus — the original members of the antiestablishment GOP — messing up Republican Party plans has been a point of pride for years, and the once-dominant Trump proved no more effective at cajoling their support with concessions and threats than the establishment Republican leaders who preceded him. For vulnerable Republicans in swing districts, all the rightward concessions made the bill too risky to back, and just like that, Trump found himself stuck in the muck of a long-running party feud that almost anyone with a partial understanding of GOP politics could have anticipated.
The Post adds that some of the conservatives who stuck with their opposition to the AHCA appreciated Trump's style, but as House Freedom Caucus chair Mark Meadows said during the process, "This is about policy, and we're not going to make it about anything else." As it turned out, Meadows and his hardliner compatriots couldn't be taken for granted, and Meadows himself was reportedly already looking for an opportunity to prove his independence from Trump.
Furthermore, if it's true that Trump is now relieved to be able to move on to tax reform, that provides yet more evidence that the new president has little understanding of what it actually takes to govern, since the failure of the AHCA is sure to linger, and the resumption of GOP infighting, even under the populist Trump, suggests more legislative friction in the future.
Language, Please
Politico reports that one of Trump's contributions to the AHCA was to tell Paul Ryan that he objected to Ryan's use of the word "buckets" to describe parts of the plan. "I don't like that word buckets. You throw trash in buckets. I don't like that word," Trump apparently told Ryan, and the Speaker subsequently started using the Trump-suggested "phases" instead.
Ultimately Empty Threats
As the AHCA's survival chances dropped, Trump and White House adopted a bullying tactic that was a trademark of Art of the Deal: ultimatums. The White House told representatives that if they didn't support the AHCA during this week, Obamacare would remain in place. Frustrated with the shifting demands of the House Freedom Caucus, Trump apparently told Representative Meadows on Thursday that the White House's proposal, as it stood at that point, was the "final offer," and then cut off further discussion, according to The Wall Street Journal. It didn't work.
Another threat was made, supported by Bannon, Pence, and budget director Mick Mulvaney, to push ahead with a vote under the theory that Republicans, if forced into a binary choice, would opt to support Trump and the AHCA rather than risk being seen as aligned with Democrats for Obamacare. "It wasn't so much about shaming members who would vote 'No' so much as daring them to do so," a senior administration official told CNN. That didn't work either, as Trump eventually backed down after being convinced the vote could do more harm than good during the 2018 midterm elections, as well as how he might still need the support of GOP lawmakers for other legislative pushes in the future.
Both threats essentially amounted to Trump and the White House saying: "Stand with us or else," but the administration got its bluff called instead.
Said Trump, after pulling the AHCA: "We all learned a lot. We learned a lot about loyalty. We learned a lot about the vote-getting process. We learned a lot about some very arcane rules in obviously both the Senate and in the House."
Bannon's Failed Paternalism
Chief White House strategist Steve Bannon reportedly fought relatively hard for the AHCA, though perhaps not wholeheartedly, but some of his tactics didn't carry much weight with hard-line members of the Freedom Caucus, despite the former Breitbart executive's right-wing credibility. Axios's Mike Allen reports that Bannon ordered the Caucus dissenters to support the bill during a meeting, insisting that, "This is not a discussion. This is not a debate. You have no choice but to vote for this bill."
According to Allen, one congressperson apparently replied, "You know, the last time someone ordered me to something, I was 18 years old. And it was my daddy. And I didn't listen to him, either."
Bannon also unsuccessfully pushed for a public, win-or-lose vote on the bill because he wanted to compile an enemies list so that the White House could identify and punish Republicans who voted against the president. Bannon undoubtedly has a perpetually revised enemies list, but his scorched-earth vote idea was vetoed by Trump.
Kushner's Ski Trip
Jared Kushner, the president's son-in-law and supposed top advisor, spent most of last week on a family ski trip in Aspen, Colorado, with his wife Ivanka and their three kids, as well as Trump's sons, Donald Jr. and Eric, and their families. Kushner apparently never liked the AHCA, nor did his alleged White House ally, economic policy adviser Gary Cohn, but he probably should have skipped the slopes in the middle of the Trump administration's signature accomplishment attempt.

Trump was reportedly annoyed that Kushner was not at the White House during the final push for the AHCA, though the White House has since denied those reports.

Knives Out for Ryan?
According to the Breitbart set, the website is already reporting that sources in the White House and GOP want Paul Ryan gone, and they have a pile of angry anonymous quotes to back it up. Said one "close to the president" insider on Friday:
Speaker Ryan proved today that he does not have the best interests of the President at heart. He sold out the president and showed his word can be taken with a grain of salt. There is only one course of action that should be taken to move past this catastrophe and that is the swift removal of Paul Ryan from the speakership.
Vice-President Pence, worried about the bill's flaws, reportedly urged the president to refer to the plan as "Ryancare" instead of "Trumpcare," and that's what Breitbart has been calling the plan. (Trump didn't heed that advice and went all in on the final AHCA push.) White House officials also seem to regret that they trusted Ryan to manage so much of the AHCA's development, roll out, and marketing — and the failure of the bill may prompt the Trump administration to build more of its own legislation from now on.
"This is 100 percent a Ryan failure," a White House official told Politico on Friday before the AHCA was even gone, but even if that was a consensus view within the Trump administration, it's unlikely that they can successfully push future legislative efforts in the middle of a White House–supported leadership fight.
Trump apparently spoke with Ryan for an hour on Saturday, but didn't send the most supportive signal when he "coincidentally" promoted a broadcast of Judge Jeanine Pirro's show on Fox News during which Pirro called for Ryan to resign in a brutal opening monologue.
Knives Out for Priebus?
The Times reported Saturday that White House Chief of Staff Reince Priebus, a close ally and friend of Ryan, had become a primary target of Trump's discontent, according to sources familiar with Trump's latest discussions. A CNN source claims that Trump seemed more upset with his own staff for allowing him to support the AHCA than he was with external players. Priebus, the former head of the RNC, apparently helped convince Trump to back the bill.
Priebus has survived previous anonymous disparagement from within the Trump administration, but Trump may decide he needs to make an example of someone following the embarrassing AHCA failure, and he can't exactly fire the speaker of the House.

Preibus, responding to the Times story during a Fox News appearance on Sunday, denied that he was in trouble.
Blame Early, Blame Democrats
Trump quickly realized what was at stake from the failed AHCA gambit, and was already on the phone to reporters trying to control the bad story before everyone had even realized the bill was dead.

He also quickly decided whose fault it was that he and the Republican-controlled Congress were suddenly unable to govern: Democrats. Despite the fact that it was the president and Republicans who opted against trying to negotiate a compromise bill with Democratic lawmakers, as of Friday they were the monsters in the closet, even without President Obama at the helm or much measurable power in D.C. The Times reports that Trump was advised that this argument was nonsensical, but he went ahead with it anyway.
This post has been updated to reflect additional insight and news reported over the weekend.