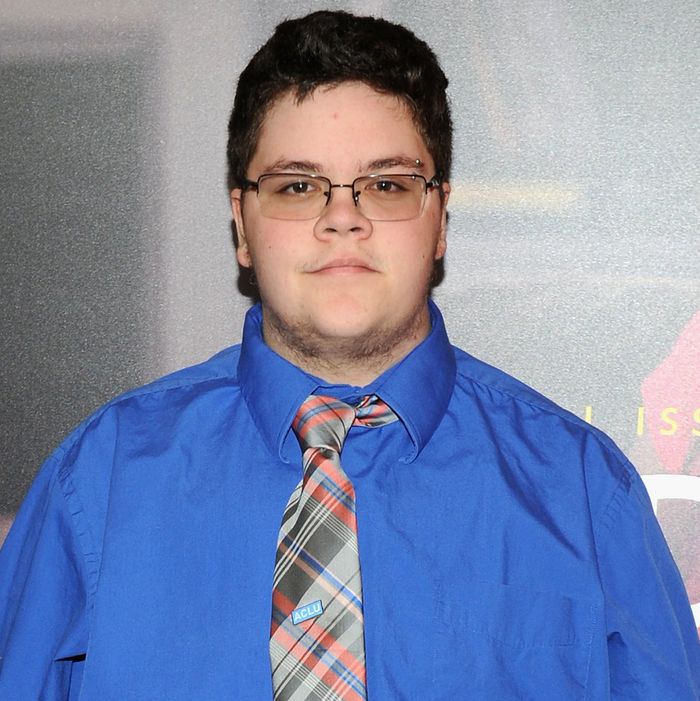 Transgender students like Gavin Grimm consigned to the judgments of state and local authorities.
Photo: Brad Barket/Getty Images
In a simple one-sentence order today, the U.S. Supreme Court declined to hear an appeal of the Fourth Circuit Court of Appeals ruling in favor of transgender Virginia student Gavin Grimm being able to access the bathroom that accorded with his gender identity. It instead instructed the Fourth Circuit to reconsider the case in light of the Trump administration's withdrawal of its predecessor's interpretation of federal anti-discrimination laws.
The nondecision comes as no great surprise, since the Fourth Circuit made deference to the U.S. Department of Education's "guidance" central to its ruling in favor of Grimm last April:
"At the heart of this appeal is whether Title IX [governing sex discrimination in education] requires schools to provide transgender students access to restrooms congruent with their gender identity," the court's opinion said. "We conclude that the Department's interpretation of its own regulation . . . as it relates to restroom access by transgender individuals, is . . . to be accorded controlling weight in this case."
The Trump administration knocked the props from beneath that decision on February 22:
In the two-page letter to public schools, the Trump administration said the Obama-era guidance did not provide "extensive legal analysis" of how its position was consistent with Title IX.

The letter cited "significant litigation" caused by the guidance, showing the need for "due regard" of the role of states and local school districts in shaping education policy.

"As President Trump has clearly stated, he believes policy regarding transgender bathrooms should be decided at the state level," the White House said in a statement. "The joint decision made today by the Department of Justice and the Department of Education returning power to the states paves the way for an open and inclusive process to take place at the local level with input from parents, students, teachers and administrators."
In theory, the Fourth Circuit and ultimately the Supreme Court could independently determine that there are federal rights for transgender students in public schools, whether or not the administration agrees with that position. But such a finding is unlikely, and students like Grimm will have to hope for vindication in that "open and inclusive process to take place at the local level" instead of the federal courts. Otherwise they are just another example of collateral damage from the events of last November 8.