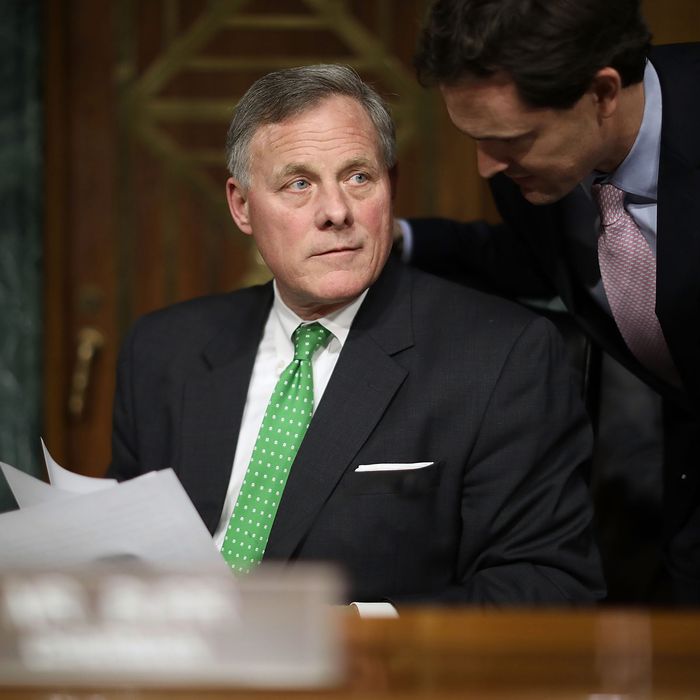 Senate Select Intelligence Committee chairman Richard Burr, Republican of North Carolina.
Photo: Chip Somodevilla/Getty Images
Earlier this month, Donald Trump accused President Barack Obama of having had his "wires tapped" in Trump Tower before the election. Trump did not provide any real evidence to back up his claim, made via Twitter, and asked Congress to investigate the charge. On Wednesday, the House Intelligence Committee said it found no evidence to back up Trump's accusations. On Thursday, the Senate Intelligence Committee also came up empty.
"Based on the information available to us, we see no indications that Trump Tower was the subject of surveillance by any element of the United States government either before or after Election Day 2016," Republican senator Richard Burr, chair of the committee, and Democratic senator Mark Warner, its ranking member, said in a joint statement.
Trump didn't back down from his wild claim in an interview with Fox News' Tucker Carlson on Wednesday, telling him his administration will be "submitting things" soon to the House Intelligence Committee. "You're going to find some very interesting items coming to the forefront over the next two weeks." He did not specify what those "things" or "items" might be, and made the situation even more confusing by adding that wiretapping actually "covers surveillance and many other things."