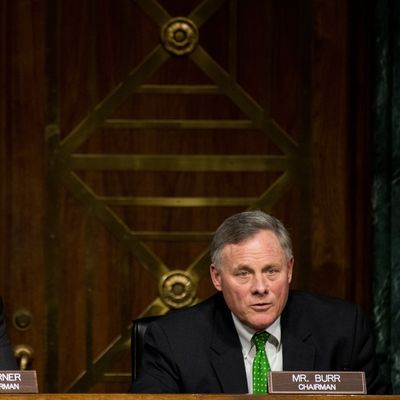 The Senate Intelligence Committee.
Photo: Bill Clark/CQ-Roll Call,Inc.
The story of the Trump campaign's alleged ties to the Russian government began with a former British spy named Christopher Steele — and it might just end with him. NBC News reports that the Senate Intelligence Committee is considering seeking testimony from the former MI6 agent whose infamous 35-page dossier launched multiple deep state investigations — and innumerable pee jokes.
That dossier spun a narrative fit for a (rather kinky) spy novel: More than five years ago, Russian intelligence operatives began "cultivating" an American reality star, shaping him into their agent through flattery and sexual blackmail. The Kremlin then eased Donald Trump's career transition, feeding his presidential campaign "valuable intelligence" on his opponents (including, of course, the Clinton campaign's hacked emails) — all as part of Vladimir Putin's grand plan to end the "ideals-based international order" that rose from the ashes of the Second World War.
Several aspects of this narrative sound implausible. And the fact that Steele was paid to assemble his materials by Trump's political opponents — during the primary and general elections — offers further reason for skepticism. But not every piece of the story needs to hold up for a few of its most damaging bits to be true. The dossier was built off raw intelligence mined from a variety of sources, some of whom may be more credible than others.
The FBI, for its part, did not laugh off Steele's allegations. After all, the former MI6 agent had credibility with the bureau, having provided "crucial help" to its investigation into corruption within FIFA. The CIA also knew of Steele's work, and considered him a "reputable" intelligence officer, according to NBC News.
What's more, subsequent investigations have produced evidence that comports with one of Steele's central claims that there were repeated exchanges of information between Trump campaign surrogates and "intermediaries for the Russian government." As the New York Times reported Wednesday night:
American allies, including the British and the Dutch, had provided information describing meetings in European cities between Russian officials — and others close to Russia's president, Vladimir V. Putin — and associates of President-elect Trump, according to three former American officials who requested anonymity in discussing classified intelligence.
Since his identity became public knowledge, Steele has been in hiding in Europe. It's unclear whether he would be willing to come to Washington.
In October, the FBI reportedly offered to pay Steele to continue investigating Trump's Russian ties. But the spy pulled out of that arrangement, because he had grown "frustrated with the FBI."
He isn't the only one. Per Poltico:
The top Democrat on the House Intelligence Committee on Thursday accused FBI Director James Comey of withholding crucial information about its probe into Russian interference in the election and raised the prospect of subpoenaing the agency.

"I would say at this point we know less than a fraction of what the FBI knows," Rep. Adam Schiff (D-Ca.) told reporters after a briefing with Comey.

"I appreciate we had a long briefing and testimony from the director today, but in order for us to do our investigation in a thorough and credible way, we're gonna need the FBI to fully cooperate, to be willing to tell us the length and breadth of any counterintelligence investigations they are conducting," Schiff said. "At this point, the director was not willing to do that."
Maybe they'll have better luck with Mr. Steele.