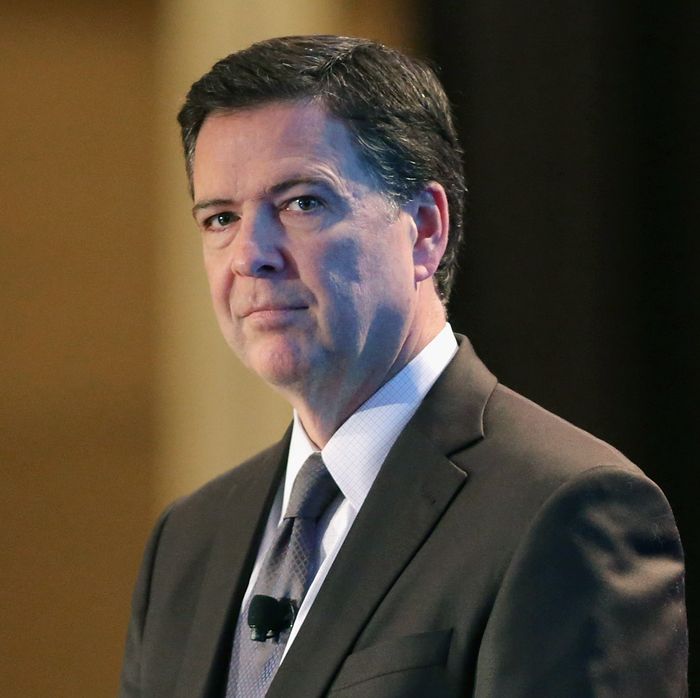 James Comey.
Photo: Chip Somodevilla/Getty Images
FBI director James Comey, who had plenty to say about Hillary Clinton's emails during the election, infuriated the Senate Intelligence Committee in January when he refused to either confirm or deny the existence of any investigation into the Trump campaign's alleged ties to Russia. But that's all going to change on Wednesday, if Comey honors what one senator interpreted as a promise to release more information about the FBI's efforts by March 15.
Democrat Sheldon Whitehouse and Republican Lindsey Graham, who lead the Judiciary Committee's Subcommittee on Crime and Terrorism, have launched an investigation into Russia's election meddling. During a private meeting with Comey on March 2, the senators asked Comey to confirm the existence of any Russia-related FBI probes. Whitehouse told CNN that Comey assured them he would confirm if an investigation exists "and the scope of their Russia/Trump investigation because he had not been able to, at that point, say that there was one."

Politico shed some more light on the request. The meeting occurred on the same day that Attorney General Jeff Sessions recused himself from any investigation related to the Trump campaign, so Whitehouse said it was unclear who Comey would go to for clearance to discuss the investigation.
"So we said, 'Look, we're going to go ahead with our hearing on the 15th, just let us know by then,'" Whitehouse said. "So I think he implicitly confirmed that they are looking at this and he said he'd get us a clearer explanation by tomorrow [March 15]. That was satisfactory to both of us."
What exactly Comey meant by that is subject to interpretation, and the FBI has not confirmed that the director will be weighing in tomorrow.
Whitehouse isn't the only lawmaker publicly pressuring Comey to comment on the Russia matter. Senate Judiciary Committee chairman Chuck Grassley, a Republican, said on Tuesday he will hold up the confirmation of deputy attorney general nominee Rod Rosenstein until Comey briefs the committee on Trump's rumored ties to Russia.
After Michael Flynn resigned as national security adviser last month, Grassley and the committee's ranking Democrat, Dianne Feinstein, formally requested a briefing on any related investigations, as well as transcripts of Flynn's calls with Russian ambassador Sergey Kislyak. According to the Washington Post, Grassley complained last week that Comey told them he was still seeking clearance to brief the committee.
Comey has been meeting with members of the Senate Intelligence Committee and the Gang of Eight, who receive briefings on classified intelligence matters. The House Intelligence Committee has invited current and former intelligence chiefs to its first hearing on Russia, which is scheduled for Monday. The FBI said Comey plans to testify, but it's unclear if he'll appear during the public hearing or during a closed-door session.
The Senate Intelligence Committee is expected to hold its own Russia hearing by the end of the month. Comey may show up, but his testimony will likely be overshadowed by that of former Trump adviser Roger Stone.