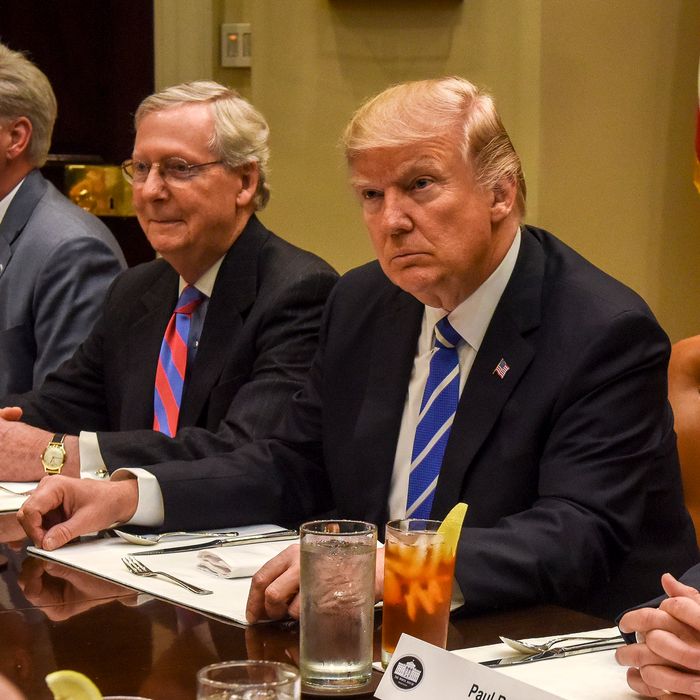 President Trump meets with Senate Majority Leader Mitch McConnell at the White House on March 1.
Photo: Bill O'Leary/The Washington Post/Getty Images
Though it looks like the American Health Care Act may come up several votes short when the House votes on Thursday, Senate Majority Leader Mitch McConnell has tried to maintain an optimistic tone, promising to bring the bill to the Senate as soon as next week.
"I would hate to be a Republican whose vote prevented us from keeping the commitment we've made to the American people for almost ten years now," McConnell told the AP on Tuesday, suggesting that he'll find a way to get the AHCA through the Senate.
"We'll have an amendment process here in the Senate," he said, "and at the end of that process, we'll send a bill to the one person who can sign it into law, and that's the president of the United States."
McConnell has impressive political skills, but that would be a tall order even for the mythical businessman portrayed in The Art of the Deal. GOP leaders can only afford two defections in the Senate, and Six Senate Republicans have given a firm "no," with several more say they're leaning toward opposing the bill.
The issue isn't just the number of nos — it's also the group's composition. The senators are against the AHCA for contradictory reasons, and a concession to either moderates or conservatives would still leave at least two people opposed. Plus, the defectors have complex concerns specific to their states, and perhaps even ulterior motives for holding up the repeal of Obamacare.
Here are the AHCA objections McConnell would have to navigate to get it to President Trump's desk.
It Isn't Conservative Enough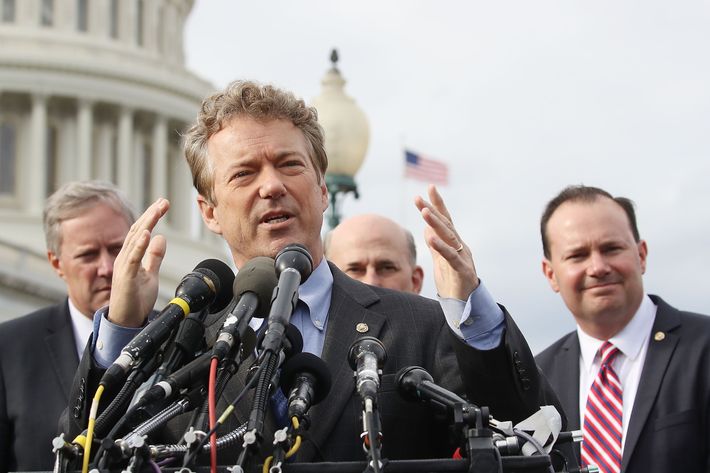 Senator Rand Paul: The Kentucky senator started railing against Paul Ryan's plan even before it was released, leading the media on a hunt through the Capitol to find the "secret bill." Paul dubbed the AHCA "Obamacare Lite," arguing it's too generous to people who don't earn enough to pay income taxes, among other issues.
In early March, Paul reintroduced the "clean" Obamacare-repeal bill that passed the House and the Senate with overwhelming Republican support in 2015 (because everyone knew President Obama would veto it). "We can honor our promise right away by passing the same language we acted on in the last Congress," Paul said. "Then, we can have a separate vote on replacement legislation that will deliver lower costs, better care, and greater access to the American people."
Some believe Paul is purposely sabotaging the AHCA because the Medicaid expansion was popular in Kentucky and gave 400,000 people health coverage. As New York's Eric Levitz wrote, "By supporting an extreme, unpassable version of Obamacare repeal, Paul can keep his tea-party base happy, while avoiding the backlash that might result from making hundreds of thousands of his constituents' lives appreciably worse."
Senator Ted Cruz: Cruz announced on Face the Nation that he wouldn't vote for the AHCA in its original form. He said his biggest concern is that it doesn't lower premiums. "I've got to tell you, if Republicans hold a big press conference and pat ourselves on the back that we've repealed Obamacare and everyone's premiums keep going up, people will be ready to tar and feather us in the streets," he said. "And quite rightly."
In a Wall Street Journal op-ed, Cruz claimed the AHCA fails to do this "because it doesn't repeal all of Obamacare's insurance mandates." It appears Cruz is in favor of weakening protections for people with preexisting conditions, but as Salon notes, he won't come out and say that. He also called for freezing the Medicaid expansion immediately, implementing work requirements, and funding the program through block grants to the states.
Senator Mike Lee: In a Daily Signal op-ed, Lee explained that he opposes the AHCA because, rather than fully repealing the Affordable Care Act, it "affirms much of Obamacare's current structure." He wrote:
It doesn't repeal the Obamacare Medicaid expansion. It doesn't repeal the Obamacare regulations that drive up the cost of premiums. But it does create a brand new spending program whose size and cost are entirely unclear.
Lee co-sponsored Paul's "clean" repeal bill, and he said that despite the tweaks made to the AHCA this week, he'll still vote against it.
Too Many People Would Lose Their Coverage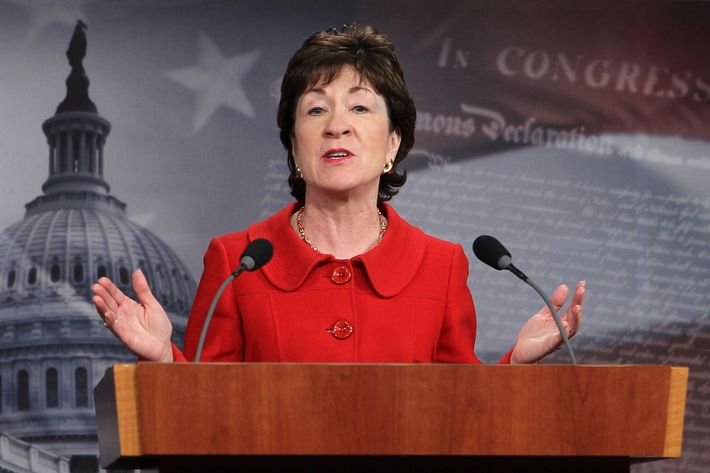 Senator Susan Collins: She was the second senator to announce she's a firm "no" on the AHCA, which she says "really misses the mark." Collins has said that she wants the GOP plan to insure more people than Obamacare. "My goal is to expand access to health care and have more individuals covered than in the ACA, and prevent the collapse of the ACA marketplace."
Senator Bill Cassidy: The Louisiana senator said he found the Congressional Budget Office's projection that 24 million people would lose coverage by 2026 "awful," though he hasn't said definitively that he'll vote against it. "That's not what President Trump promised," he told CNN. "That's not what Republicans ran on."
Cassidy is a physician who spent decades working in charity hospitals, where he saw the effects of allowing people to go uninsured. "Society is going to pay for health care whether it is through insurance or not," said Cassidy. "Society will pay for it either through cost-shifting to the privately insured, or it will pay for it through enhanced disproportionate payments" to hospitals that treat poor patients.
Back in January, Cassidy and Collins released a proposal for a health-care bill that would allow each state to choose whether to keep Obamacare. Right now Republicans and Democrats are not looking to compromise on health care, and few are enthusiastic about the plan.
Senator Dean Heller: The Nevada senator announced last week that he does not support the AHCA due to its Medicaid cuts. He cited a letter Nevada governor Brian Sandoval, along with three other Republican governors, sent to congressional leaders. "It provides almost no new flexibility for states, does not ensure the resources necessary to make sure no one is left out, and shifts significant new costs to states," the governors said.
As the only GOP senator up for reelection in a state won by Hillary Clinton, Heller is one of the most vulnerable incumbents in the 2018 midterms.
Senators Rob Portman, Cory Gardner, Shelley Moore Capito, and Lisa Murkowski: Just before the AHCA was introduced, these four senators sent a letter to McConnell saying, "We will not support a plan that does not include stability for Medicaid expansion populations or flexibility for states." All four are from states that accepted Obamacare's Medicaid expansion, which the AHCA would phase out starting in 2020.
It Would Defund Planned Parenthood
While it's not their primary reason for opposing the bill, Collins and Murkowski are also against the AHCA because it defunds Planned Parenthood. Collins voted against the 2015 Obamacare-repeal effort on the grounds that it defunded Planned Parenthood. Murkowski joined her in sponsoring an amendment that would have preserved money for Planned Parenthood, though she still voted for the bill.
"I think that Medicaid funding that goes to Planned Parenthood is important not only for women and men in Alaska and around the country and I will maintain that," Murkowski said on Tuesday.
Another major issue for the Alaska senator: Her state would be the hardest-hit by far because the AHCA doesn't adjust tax credits by geography.
It's a Bad Bill That Could Hurt Republicans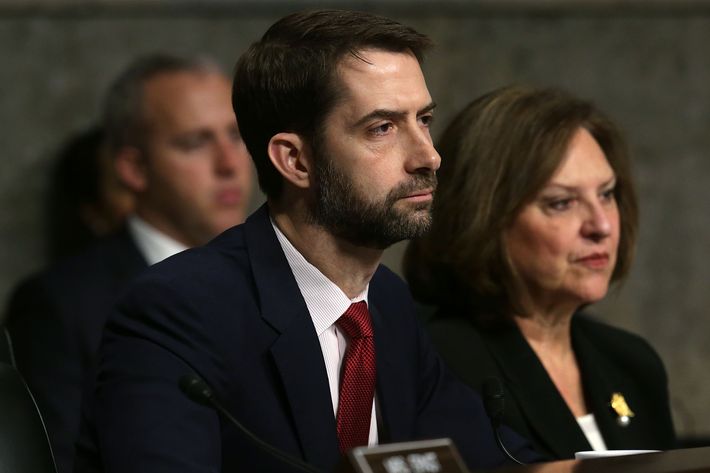 Senator Tom Cotton: While Cotton is a far-right Republican, his complaints about the AHCA don't completely align with those of Paul, Cruz, and Lee. His state, Arkansas, has seen one of the biggest reductions in its uninsured rate, dropping from 22.5 percent in 2013 to 10.2 percent in 2016. Cotton is in favor of work requirements for Medicaid, but expressed concerns about poor people being able to afford coverage on the private market. On Hugh Hewitt's radio show, Cotton said he thinks the CBO's dire predictions are concerning:
They're right that coverage levels will go down in the coming years under the House bill. They're also right, I'm afraid, that insurance premiums will continue to go up in the near term, for three to four years, before they start perhaps falling in the long term.
But when asked if he supported Paul's push for full repeal followed by replacement, Cotton dodged. "I'm open to lots of legislative approaches, except for ramming through major legislation in 36 hours in the dark of night," he said.
Cotton's attacks have focused on the stupidity of rushing to pass a bill no one likes. He's called for Republican leaders to slow down and start over, and dismissed the Republicans' "three-pronged" health-care strategy as "politicians engaging in spin." Cotton has warned that the AHCA can't pass the Senate, and that if it passes in the House it could endanger the GOP majority during the 2018 midterms.
"The House should continue its work on this bill," Cotton said on Tuesday after the AHCA was amended. "It's more important to finally get health-care reform right than to get it fast."
Many other Republican senators have questioned the wisdom of pushing through such a seriously flawed bill.
"We need to do better," Senator Steve Daines said after the CBO released its report. "I want to see costs and premiums go down to make health care more affordable for Montana families."
"My Republican colleagues would be making a mistake if they become content with failing to produce the perfect at the expense of achieving good, practical solutions to reform our nation's broken health-care system," said North Carolina senator Thom Tillis.
There are at least ten senators who have offered similar criticisms, though they've been coy about exactly where they stand on the AHCA. Even if they ultimately decide to back the bill, it's hard to see how GOP leaders will get the firm nos to come around. There's no amount of tweaking that can make the AHCA a bill that completely dismantles Obamacare and reduces costs while expanding coverage, maintaining Planned Parenthood funding, and ensuring that the GOP maintains control of Congress.