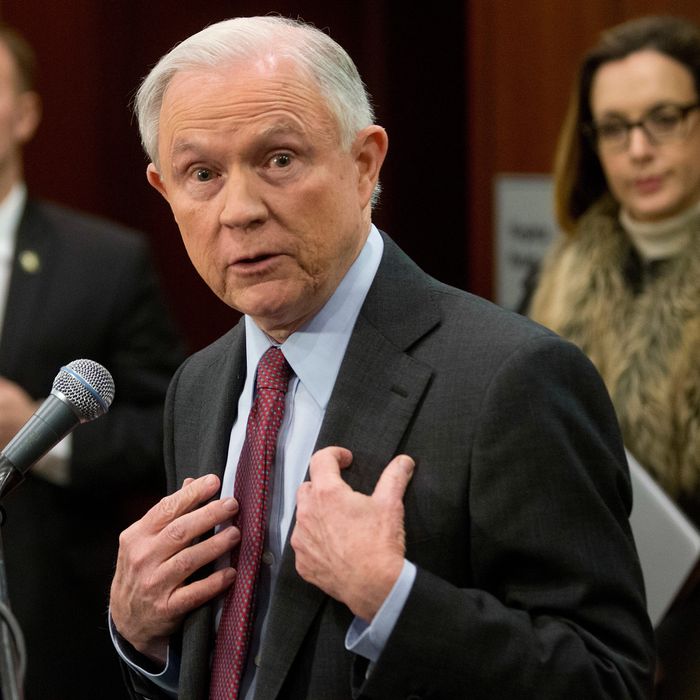 Mellow harsher.
Photo: Steve Helber/AP
Attorney General Jeff Sessions has made no secret over the years of his distaste for wacky weed. Just last year, he said in a Senate hearing that "good people don't smoke marijuana." And in 1986, his nomination to a federal judgeship was derailed in part by a joke he made about how he thought the KKK was pretty cool until he "found out they smoked pot." Apparently that passed as comedy in early-'80s Alabama.
Now that he's attorney general, the 70-year-old's stance on marijuana has not softened, as he made clear on Wednesday in a speech to a group of law-enforcement officials in Virginia. After citing CDC overdose statistics, Sessions denounced the suggestion that medical marijuana could help fight heroin addiction. That would amount to addicts "one life-wrecking dependency for another that's only slightly less awful," he said.
That's quite a statement, especially as heroin continues to ravage the country, with overdose deaths more than quadrupling since 2010. Sessions's comparison is particularly galling when you consider the evidence showing that medical marijuana reduces opiate-related overdoses. One 2014 study showed that states with legal weed have a lower rate of opioid overdoses than those without. In 2016, researchers found that doctors in those same states write fewer prescriptions for opiates, suggesting that the availability of marijuana to treat pain results in fewer opioid overdoses.
Despite his clearly boneheaded opinion on marijuana, Sessions is at least conceding that his DOJ will not upend the marijuana enforcement guidelines laid out by the Obama administration in 2013. These guidelines tell prosecutors what to focus on related to marijuana and show states how to legalize it without interference from the feds. On Wednesday, Sessions said he thinks "much of" the memo is "valid."