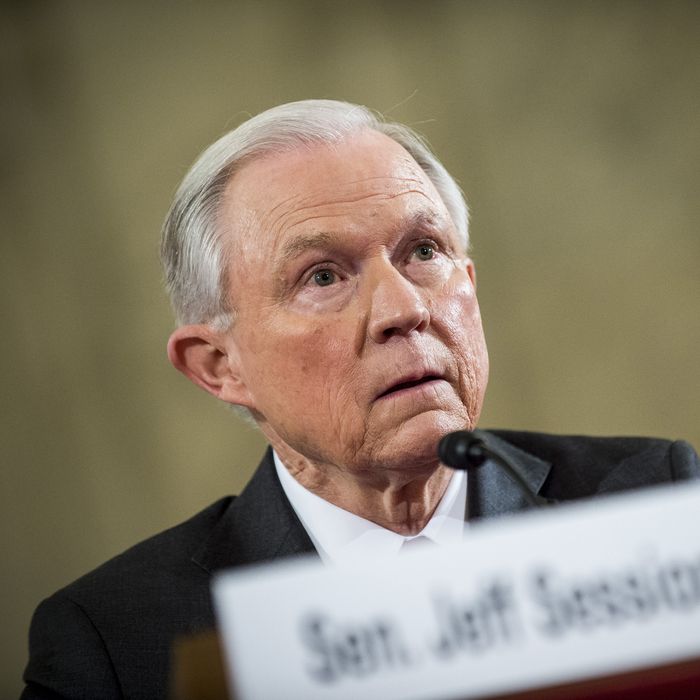 Senator Jeff Sessions speaks before the Senate Judiciary Committee on January 10, 2017.
Photo: Pete Marovich/Bloomberg via Getty Images
Several lawmakers are calling for Jeff Sessions to resign as attorney general — or at least recuse himself from investigations involving Russia and the Trump administration — following a Washington Post report that he spoke with Russia's ambassador to the United States twice during the presidential campaign. Sessions, who campaigned for President Trump, denied under oath that he had any communications with the Russians during his confirmation hearing.
The Wall Street Journal also revealed that U.S. intelligence agencies examined contacts between Sessions and Russian officials as part of the investigation into the Trump team's possible Russia ties. It's unclear what the probe discovered, or if it's ongoing. The FBI answers to the attorney general, and a source said the investigation into Sessions left the agency "wringing its hands."
Sessions met with Russian ambassador Sergey Kislyak in July and September, when he was a member of the Senate Armed Services Committee and a top foreign policy adviser to the Trump campaign. The first meeting was an informal exchange with Kislyak and other diplomats after Sessions spoke at a Heritage Foundation event during the Republican National Convention. The second meeting was a private conversation in Sessions's office, which came as Russia was allegedly engaged in a cyber campaign to upend the U.S. election.
During Sessions's confirmation hearing on January 10, Senator Al Franken asked what he would do if he learned that Trump campaign officials had been talking with the Russian government. Sessions volunteered that he was a campaign surrogate and had not communicated with the Russians.
"I'm not aware of any of those activities," Sessions said, adding, "I have been called a surrogate at a time or two in that campaign and I did not have communications with the Russians."
The Post reports that Sessions also denied discussing the election with the Russians in his written statements to the Senate Judiciary Committee:
In January, Sen. Patrick J. Leahy (D-Vt.) asked Sessions for answers to written questions. "Several of the President-elect's nominees or senior advisers have Russian ties. Have you been in contact with anyone connected to any part of the Russian government about the 2016 election, either before or after election day?" Leahy wrote.

Sessions responded with one word: "No."
Sarah Isgur Flores, Sessions's spokeswoman, told the Post that there was nothing misleading about his answer. She said he didn't think the conversations with Kislyak were relevant to the senators' questions, and didn't remember what they discussed in detail.
After the Post story broke, Flores said in a statement that Sessions met with Kislyak as a member of the Armed Services Committee, not a Trump surrogate:
There was absolutely nothing misleading about his answer. Last year, the Senator had over 25 conversations with foreign ambassadors as a senior member of the Armed Services Committee, including the British, Korean, Japanese, Polish, Indian, Chinese, Canadian, Australian, German, and Russian ambassadors. He was asked during the hearings about communications between Russia and the Trump campaign – not about meetings he took as a senator and a member of the Armed Services Committee.
The Post contacted every senator who served with Sessions on the Armed Services Committee and asked if they'd met with Kislyak in 2016. Twenty said no, and the other six have yet to respond.
Several hours later, Sessions released another statement: "I never met with any Russian officials to discuss issues of the campaign. I have no idea what this allegation is about. It is false."
The White House issued its own statement, suggesting that Senator Franken leaked the story to ruin President Trump's good press from his speech on Tuesday night. Franken's team denied this.
After the story broke, Democratic lawmakers renewed their calls for Sessions to recuse himself from investigations into the Trump team's alleged ties to Russia. Sessions had resisted, but on Monday he suggested that he would step down in certain circumstances, saying he would "recuse myself on anything that I should recuse myself on, that's all I can tell you."
Senator Franken said Sessions's response at his confirmation hearing "was, at best, misleading," if the reports are true. "It is now clearer than ever that the attorney general cannot, in good faith, oversee an investigation at the Department of Justice and the FBI of the Trump-Russia connection, and he must recuse himself immediately," he said.
During a CNN town hall with Senator John McCain, Republican Senator Lindsey Graham said that if the FBI investigation turns up any evidence of wrongdoing then a special prosecutor is needed. "It is clear to me that Jeff Sessions, who is my dear friend, cannot make this decision about Trump," he said.
Early Thursday morning, Sessions told NBC News,"I have said whenever it's appropriate, I will recuse myself. There's no doubt about that." The attorney general did not say whether it was now appropriate.
Meanwhile, House Majority Leader Kevin McCarthy told MSNBC's Morning Joe that it would be "easier" if Sessions recused himself from the investigations into Russian hacking.
"I just think for any investigation going forward, you want to make sure everybody trusts the investigation," McCarthy said. "That there's no doubt within the investigation…I think it would be easier from that standpoint, yes."

House Oversight Committee chair Jason Chaffetz also called on Sessions to recuse himself.
Some top Democrats went even further. House Minority Leader Nancy Pelosi, Representative Elijah Cummings, and Senator Elizabeth Warren said Sessions should resign. "After lying under oath to Congress about his own communications with the Russians, the attorney general must resign," Pelosi said, adding, "Sessions is not fit to serve as the top law enforcement officer of our country."
National Security Adviser Michael Flynn was forced to resign last month following reports that he discussed sanctions in phone calls with Kislyak before Trump took office. Vice-President Mike Pence and other Trump administration officials had publicly denied that Flynn talked about sanctions.
Earlier on Wednesday evening, the New York Times reported that officials in the Obama administration — but not the former president himself — worked to spread information about Russia's election meddling and possible links to the Trump campaign around the government. This included foreign intelligence on contacts between Trump associates and Russian officials:
American allies, including the British and the Dutch, had provided information describing meetings in European cities between Russian officials — and others close to Russia's president, Vladimir V. Putin — and associates of President-elect Trump, according to three former American officials who requested anonymity in discussing classified intelligence.

Separately, American intelligence agencies had intercepted communications of Russian officials, some of them within the Kremlin, discussing contacts with Trump associates.
The Obama officials were concerned that the information would be concealed or destroyed by the Trump administration and wanted to make sure it would still be available to investigators. In addition to the intelligence agencies, the House and Senate Intelligence Committees are conducting their own Russia probes.
White House PressSsecretary Sean Spicer said, "The only new piece of information that has come to light is that political appointees in the Obama administration have sought to create a false narrative to make an excuse for their own defeat in the election." He added, "There continues to be no there, there."
This story has been updated throughout.