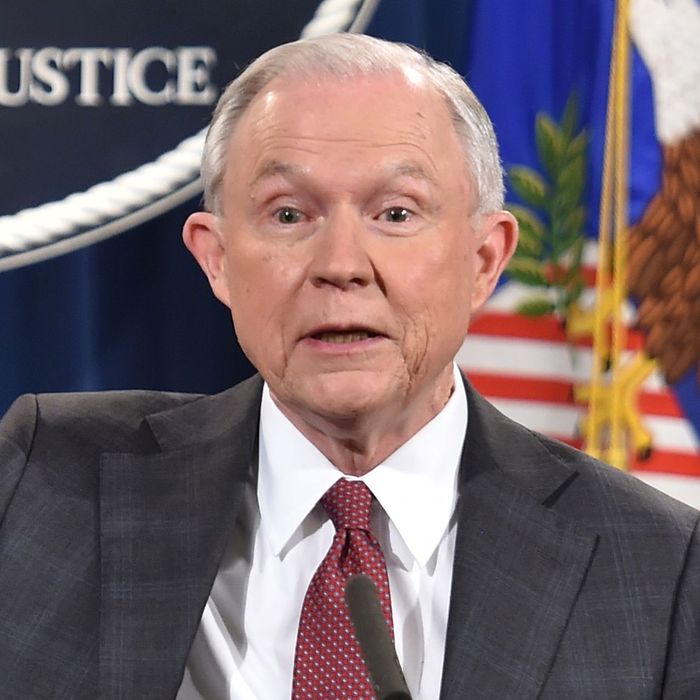 At a press conference Sessions agreed to a partial recusal in investigations of Russia-Trump campaign contacts. But it's still unclear why he didn't come clean earlier.
Photo: Nicholas Kamm/AFP/Getty Images
As he signaled he would probably do earlier today amidst the explosive revelation of two meetings he held with Russia's ambassador to the U.S. during the presidential campaign, Attorney General Jeff Sessions announced he would recuse himself from any Justice Department investigation of contacts between the Trump campaign and Russian officials or agents. Indeed, the recusal will extend to investigations of any issues related to the 2016 election, though it is hard to imagine any issue eclipsing this one in significance. It is also worth noting the recusal only extends to events occurring before Election Day, which means Sessions could involve himself in a probe of alleged contacts occurring between November 8 and today.
At a brief press conference announcing the step, Sessions claimed this decision had already been made and was well in the works before news broke of his meetings with the ambassador. And he also denied any wrongdoing or impropriety in negatively answering questions during his confirmation hearings about interactions with Russians. He is taking the very hard line that all he was asked about was contacts made with him as a Trump surrogate. Since the alleged meetings were, he said, held with him in his capacity as a U.S. Senator, they were not relevant to the questions.
In a rather casual description of the one meeting with Sergey Kislyak that seemed to be substantial, Sessions made it sound like a social call or even an effort by the Russian to collect political gossip. While he has adamantly stated the meeting was not on behalf of the Trump campaign, he would not rule out the possibility the campaign came up, it being such a hot topic, doncha know. This gives Sessions a prearranged second line of defense if someone else in the meeting suggests the campaign was discussed after all.
While Sessions constantly denied he had done anything wrong, he did at the very end of his press conference allow that he should have probably mentioned the meetings when Al Franken asked him at the confirmation hearing about contacts with Russians. His explanation for not doing so was that he was "taken aback" by this line of questioning. To hear Sessions talk now, the idea of Russians interfering with the presidential election on Trump's behalf was a new one to him when he held the meeting in September and when he was asked about meetings in January of this year. Since Hillary Clinton made global headlines by accusing the Russians of interference immediately before the September meeting, this hardly seems credible.
But that's his story and he's sticking to it. Absent new evidence, we can expect Republicans in Congress, if not Democrats, to call the recusal enough and shift attention from Sessions to the broader investigation, or try to bury the whole thing. But as with his decision not to disclose the meetings in January, Sessions's reputation as a straight shooter is taking a big hit. Once again, he's splitting hairs like a shady lawyer instead of living up to his responsibilities as chief law-enforcement officer of the United States.