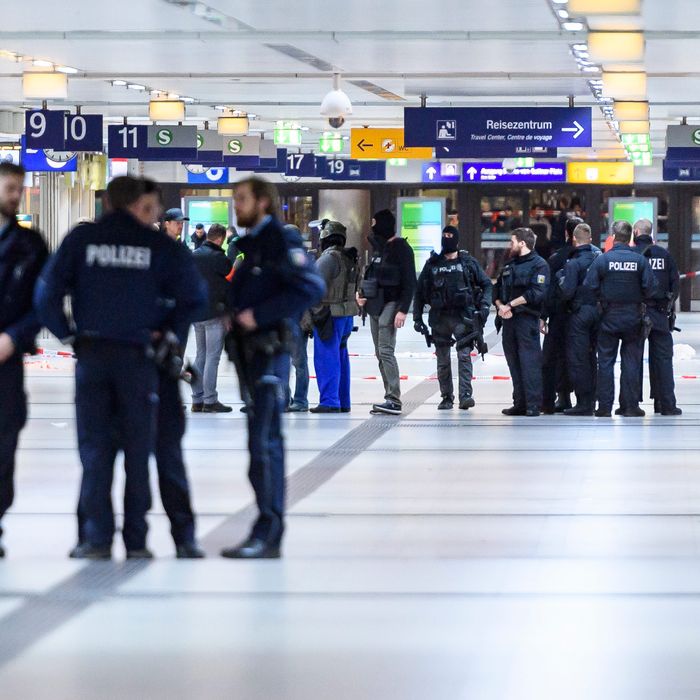 Police and emergency workers outside the main railway station following what police described as an ax attack on March 9 in Düsseldorf, Germany.
Photo: Alexander Scheuber/Getty Images
German police have arrested at least one suspect who allegedly went on a slashing rampage with an ax at Düsseldorf's main train station in Germany on Thursday night, wounding seven. One person sustained serious injuries, but all of the victims are expected to survive.
Police swarmed the station, shutting down and suspending or diverting train service, to investigate. Despite earlier reports that suggested multiple arrests, authorities say they believe only one person is behind the attack. The suspect was identified as a 36-year-old man from the "former Yugoslavia," who had been living in Germany. The man was reportedly also hurt as he tried to flee, after reportedly trying to jump off an overpass, before police captured him.
A witness described the scene to Bild, a German news outlet, saying, "We were standing on the track, waiting for the train. The train came, and suddenly someone jumped out with an axe and started hitting people. There was blood everywhere."
German authorities have not named a motive yet, saying only that the suspect appeared to have "psychological problems." Germany is still on high alert after the terror attack on the Berlin Christmas markets last year. The head of Germany's domestic intelligence warned before this attack on Thursday that the country was "significantly more prioritized" as an ISIS target in 2016, and the threat continues.
This post has been updated throughout.