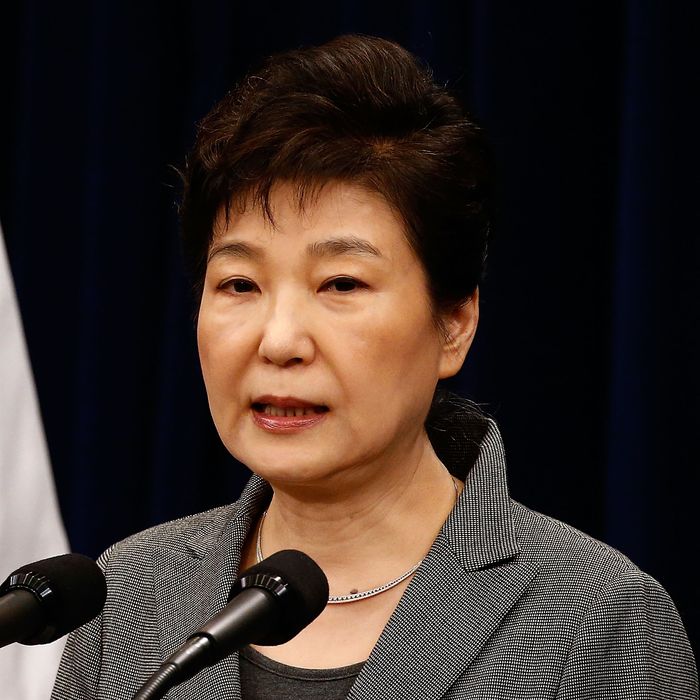 Park Geun-hye, South Korea's first female president, has been removed from office following a corruption scandal that has rattled the nation for the past six months. Her removal is likely to shift relationships across Asia as the region tries to deal with an increasingly belligerent North Korea.
Eight judges on South Korea's Constitutional Court ruled unanimously to impeach Park, upholding a parliamentary vote to strip her of her powers in December. Since that time, the prime minister, Hwang Kyo-ahn, has been acting president. Park is the first South Korean president to be ejected from office.
The scandal broke in the fall, when reporters found a tablet belonging to Choi Soon-sil, the president's close friend since childhood. It suggested that Choi, who had no government position, was influencing policy, with Park secretly turning to her for counsel and rarely conferring with her official advisers.
Furthermore, a special prosecutor alleged that Choi took advantage of her relationship with the president to enrich herself and her family. She allegedly received about $70 million in bribes from big businesses. Choi has been on trial for months, and Lee Jae-yong, Samsung's de facto head, went on trial this week for bribery, embezzlement, and perjury charges. Park had immunity as president, but now she may be charged with abuse of power, coercion of donations, and sharing of state secrets.
A new election must be held within 60 days, and it appears there will be a political shift in South Korea. The scandal has left Park's conservative party in disarray, and progressive candidate Moon Jae-in is leading in the polls. He is expected to revive the "sunshine policy" of engagement with North Korea, which is the approach favored by China.
This adds another complication to what was already one of the thorniest issues facing the Trump White House.