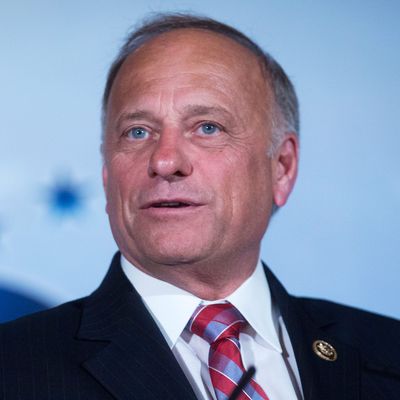 Warning: Have a strange system for nominating congressional candidates and you could get someone like Steve King.
Photo: Andrew Harrer/Bloomberg via Getty Images
It seems that in Iowa, one argument for getting rid of a strange system for nominating candidates for office is that it once gave the world the career of Steve King.
Yes, as the Des Moines Register reports, Democrats raised the specter of the widely controversial congressman from the western part of their state during an Iowa Senate debate over legislation to get rid of an arcane procedure whereby delegates to a party convention resolve nominations if no one received more than 35 percent of the vote. King, you see, first came to Congress in 2002 after winning one of those conventions.
"If there is any lesson that we can learn from this bill in the current context of Congressman King's irresponsible language, it is that if perhaps we had a process on the front end that allowed us to be closer to the voters, he maybe wouldn't be as free as he is today to say the things that he says because of the power of incumbency," [Sen. Jeff] Danielson said.
No Senate Republicans rose on the Senate floor Wednesday to defend King, who served in the Iowa Senate before he was elected to Congress.
There really is not much to be gained by Republicans from saying anything about King at the moment.
But while Iowa Senate Democrats may have had King in mind in voting to adopt a runoff system for nominations like 11 other states use, Republicans may have had more personal motives at hand. The sponsor of the bill, Senator Brad Zaun, finished first in a 2014 primary for a central Iowa congressional district nomination:
Because no candidate received 35 percent of the vote in the primary, the decision on the GOP's nomination for Congress was sent to a district convention of about 500 Republican activists. They selected David Young of Van Meter, a former top aide to U.S. Sen. Chuck Grassley. Young subsequently won election to Congress, even though he placed fifth in the primary.
So Young, not Zaun, sits cheek by jowl with Steve King in Congress.
The bill to adopt a runoff system passed 49-0.