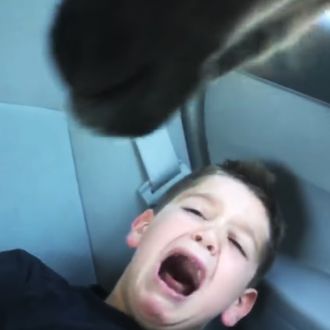 Before we begin, let's get one thing clear: We here at Select All are assuming the kid in the following video is fine and relatively unscathed, since his family uploaded his traumatic experience to YouTube in a video titled "Llama Attack!" With that, please have yourself a good cackle at this video of a boy named Trey freaking out, as a llama at the Tennessee Safari Park sticks its head into the family car and eats out of a bucket of feed on his lap. Come for the llama, stay for the screams and the image of Trey splayed out across the backseat, as though flattening himself out will make him invisible to the hungry llama.

"TAKE THE BUCKET AWAY FROM HIM!"
Update, March 21, 2017, at 3:15 p.m.: Trey's parents posted another video, talking to him about his feelings on going viral. He seems no worse for wear.