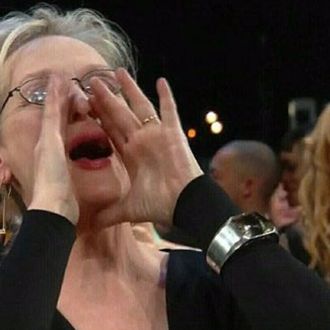 Meryl Streep, the most-Oscar-nominated actress in the history of film, finally achieved true recognition for her work when she became a meme over the weekend. A shot of the actress at the SAG Awards, with her hands cupped over her mouth, yelling something, is now being matched with those lyrics that you can't help but yell along with.
Here's how it works. You write whatever the setup lyric is, and then match it with the response, in all caps, and the picture of Meryl, whose brand of "respected and cool but not too cool" fits the meme's tenor perfectly.
This is the second awards-show-reaction meme for Streep, who first achieved GIF-worthy recognition alongside J.Lo for agreeing with Patricia Arquette at the Oscars in 2015.