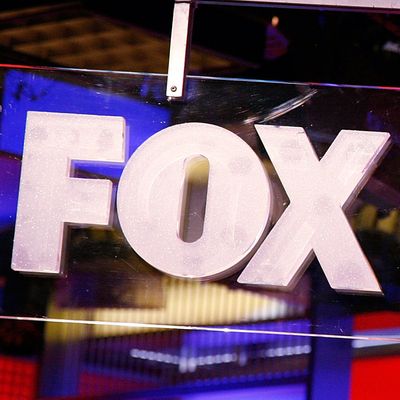 In an awkward phase.
Photo: Andy Kropa/Getty Images
In the months after former Fox News chairman Roger Ailes resigned last summer, it appeared that the sexual-harassment scandal that brought down the powerful Fox chief would be short-lived. Ailes's abrupt exit didn't immediately create the chaos at the network that many — including myself — predicted. In fact, boosted by the drama of the election, Fox News registered new highs in ratings and profits in the second half of last year, and the network seemed to be finding firm new footing with unrivaled access to Trump and the success of Tucker Carlson, Megyn Kelly's replacement, in the key 9 p.m. slot.
But now, the predicted post-Ailes turmoil seems to be roiling the network, if a few months later than expected. Since Donald Trump's inauguration, Fox News is confronting an array of crises — from on-air controversies and civil lawsuits to a federal investigation — that trace back to the culture Ailes presided over at Fox for 20 years. While Fox News' co-presidents Bill Shine and Jack Abernethy have attempted to get ahead of the scandals by firing some employees and instituting "sensitivity training," more problems seem to be on the way for the network.
Next week, according to sources, a grand jury in Manhattan will be hearing new testimony in a federal investigation of Fox News that had been led by former U.S. Attorney Preet Bharara, until he was fired by Trump earlier this month. The case continues without Bharara, and people familiar with the investigation say the government is looking into a number of potential crimes, including Fox News' alleged surveillance of journalists, and whether network executives misled investors by hiding Ailes's sexual-harassment settlements. (A contender to replace Bharara is Ailes's personal attorney Marc Mukasey — a choice that could have consequences for the investigation.)
Earlier this week, the Financial Times reported that former Fox News CFO Mark Kranz has been offered immunity to cooperate with prosecutors. Kranz was forced out of the company last summer in the wake of Ailes's departure. One former Kranz colleague told me that Kranz "knows everything" about the Fox News budget, and would be key to an investigation into whether Ailes had hidden payouts.
Fox News continues to make multi-million-dollar settlements with employees suing the network for bad behavior that took place on Ailes's watch. (Ailes, through his lawyers, has repeatedly denied any harassment.) The latest lawsuit, filed this week by two black female employees in Fox's payroll department, alleges shocking acts of racial discrimination — their lawyers describe it as "reminiscent of the Jim Crow era" — by Fox's longtime comptroller Judy Slater. (Last month, Fox fired Slater after the network's new HR chief conducted an internal investigation of the charges.) Sources say more women are likely to file harassment and discrimination suits in the weeks ahead.
Fox's off-air problems are being compounded by on-air ones. Last weekend, Judge Jeanine Pirro appeared to be carrying out a predetermined political attack on Paul Ryan when Trump tweeted for viewers to tune into her show, several hours before she called on the House Speaker to resign in the wake of the health-care debacle. (The White House denied that Trump knew what she would say.) Yesterday, Fox judicial analyst Andrew Napolitano returned to the air after a suspension and doubled down on his unsupported claim that Barack Obama utilized the British spy agency GCHQ to spy on Trump. Then there was Bill O'Reilly's widely condemned comment that described Representative Maxine Waters's hair as a "James Brown wig."
At least for now, Fox News executive chairman Rupert Murdoch seems to be leaving it to Shine and Abernethy to try to gain control of the situation. This week, he's been away in London.