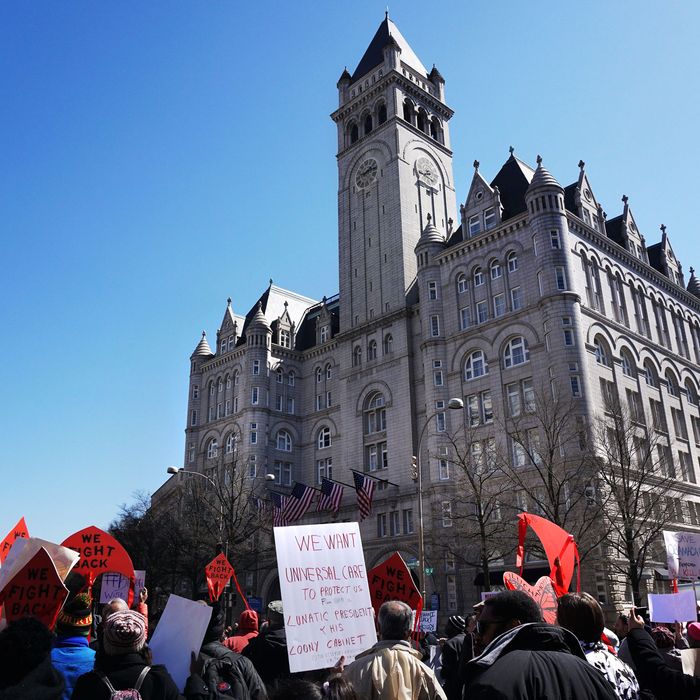 A new Trump hotel means a new place to protest.
Photo: Mandel Ngan/AFP/Getty Images
In an apparent bid to provide ass-kissing special-interest groups, businesses, and foreign governments another opportunity to grease the palms of the president's family, the Trump Organization is reportedly in the market for a second Washington, D.C., hotel.
Unlike the Trump International Hotel, a luxury property that the Trump Organization owns, the proposed addition to the family's portfolio would be a more accessible boutique hotel owned by another developer. The owner would pay the Trump Organization a fee to manage the hotel and a licensing fee for its name, which would not include the word Trump.
"They're trying hard to do Scion in this market," a developer told the Washington Post, referring to the Trump Organization's less-stuffy sub-brand that caters to those who want to line the pockets of a kleptocrat but don't have the means to blow $800 a night.
Leaving the Trump name out of the branding of the new hotel is a shrewd move. Trump's fans will know who owns it, even under the Scion name, and they'll have another way to spend money in a way that benefits the Trump family. But for those who despise the Trumps, it'll be less obvious who's running the hotel. Turns out, that's the reason the Scion brand exists.