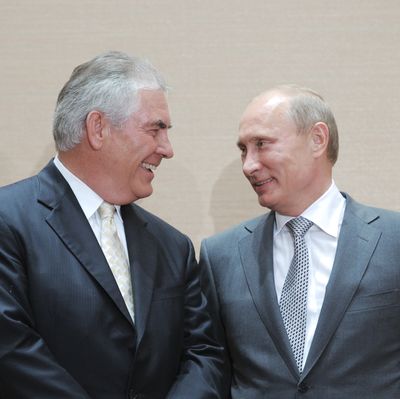 "You people have stood in my way long enough. I'm going to Russia!"
Photo: ALEXEY DRUZHININ/AFP/Getty Images
In the past few days the president made comments that heightened concerns about his commitment to NATO, and the FBI confirmed that it's investigating his campaign's potential ties to Russia. In a normal administration, the White House would be working furiously to underscore the United States' commitment to its allies and its independence from Russian influence. Instead, the Trump administration appears to be doing the exact opposite. Reuters reports:
U.S. Secretary of State Rex Tillerson plans to skip an April 5-6 meeting of NATO foreign ministers for a U.S. visit by the Chinese president and will travel to Russia later in the month, U.S. officials said on Monday, a step allies may see as putting Moscow's concerns ahead of theirs.

Tillerson intends to miss what would be his first meeting in Brussels with the 28 NATO members to attend President Donald Trump's expected April 6-7 talks with Chinese President Xi Jinping at Trump's Mar-a-Lago resort in Florida, four current and former U.S. officials said.

The State Department has yet to confirm that Tillerson is skipping the NATO meeting, or that he is heading to Moscow on April 12, but it fits the emerging narrative about Tillerson. Being the public face of America's foreign policy may be the secretary of State's job, but Tillerson is "not a big media press access person," and only one journalist is joining him in Asia. As the macho pseudonym "Wayne Tracker" suggests, Tillerson isn't the type of guy who stresses about what other people think of him — even if those people are American citizens and he's working on their behalf.