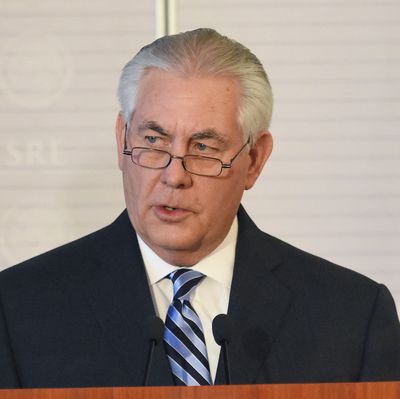 Have you seen this secretary?
Photo: NurPhoto/NurPhoto via Getty Images
On Thursday, Greenpeace launched a campaign calling for Secretary of State Rex Tillerson to recuse himself from deliberations on granting a permit to TransCanada Corp's Keystone XL pipeline, which he praised when he was CEO of Exxon Mobil. The State Department responded with a letter saying Tillerson is "committed to full compliance with his ethics obligations," and had recused himself … back in February.
No explanation was offered for why the recusal wasn't announced at the time, but hiding from the press is already one of the hallmarks of Tillerson's State Department.
This week, the State Department offered a press briefing for the first time in seven weeks. (While near-daily press briefings have been a tradition for decades, the current plan is to hold just two briefings and two conference calls per week.) Acting spokesman Mark Toner took the opportunity to push back on the idea that Tillerson is out of touch.
"I can also assure you that Secretary Tillerson is very engaged with the White House, is very engaged with the president, speaks to him frequently," Toner said. "I can assure everyone that the State Department's voice is heard loud and clear in policy discussions at the National Security Council level."
Regardless of Tillerson's relationship with the president, his lack of interaction with the public is shocking, particularly because the secretary of State is usually one of the most visible cabinet advisers.
Since taking office, Tillerson has given no media interviews and no press conferences. During his trip to Germany last month, he answered just one question shouted by a reporter. Earlier this week, NBC's Andrea Mitchell was ushered out of the room when she tried to ask the secretary a question during a photo op with Ukrainian foreign minister Pavlo Klimkin.
Tillerson has refused to take any reporters on his trip to Asia next week. D.C. bureau chiefs from major news organizations — including the New York Times, Fox News, CNN, the Washington Post, and The Wall Street Journal — sent a letter protesting the decision.
We were deeply concerned to hear that Secretary Tillerson plans to travel to Beijing, Seoul and Tokyo to hold key meetings about some of the most important foreign policy issues for the United States without any traveling press. Not only does this situation leave the public narrative of the meetings up to the Chinese foreign ministry as well as Korea's and Japan's, but it gives the American people no window whatsoever into the views and actions of the nation's leaders. And the offer to help those reporters who want to travel unilaterally is wholly unrealistic, given the commercial flight schedules, visa issues and no guarantee of access once they are there.
CNN's Jake Tapper called the decision "insulting":
Engaging with the public is not a priority for the CEO of an oil company, but Tillerson's press avoidance may have more to do with his boss than his background. According to Carol Giacomo of the New York Times, "State Department sources say he doesn't see the importance of engaging the press, a view reinforced by Mr. Trump's attacks on the media."