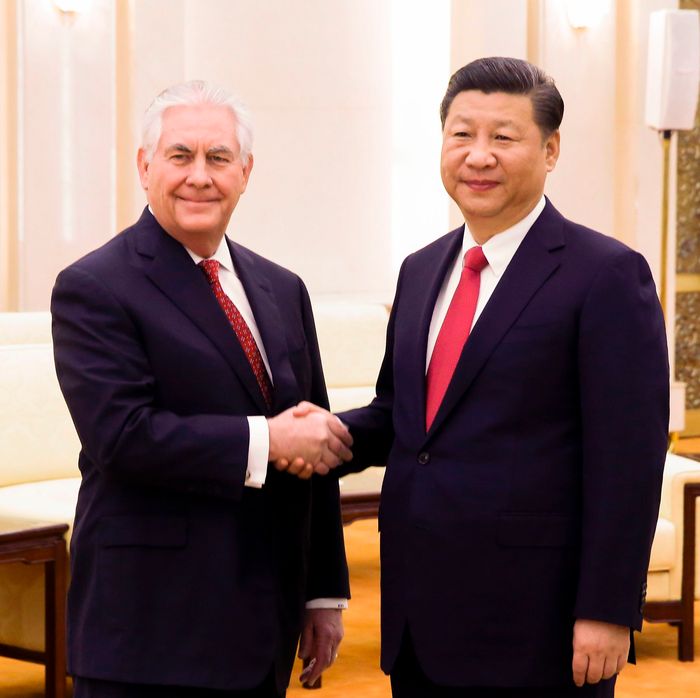 "FYI, I'd rather be home with my grandkids."
Photo: THOMAS PETER/AFP/Getty Images
Secretary of State Rex Tillerson's relationship with the media is so bad that even the one reporter who was allowed to cover his trip to Asia called his press strategy an "abject failure." Aside from transparency concerns, the lack of media access means Tillerson's stumbles — such as parroting Chinese catchphrases about the U.S.'s relationship with the country and blaming an ally for a mistaken report that he was too tired to do his job – have received far more attention than whatever he might be doing behind the scenes.
But one message that Tillerson has managed to put forth is that he doesn't really care what the American people think about him. He underscored this point in a new profile by the Independent Journal Review's Erin Pike — the journalist who accompanied him to Asia — telling her that he didn't want to be secretary of State anyway.
"I didn't want this job. I didn't seek this job." He paused to let that sink in.

A beat or two passed before an aide piped up to ask him why he said yes.

"My wife told me I'm supposed to do this."

After watching the contortions of my face as I tried to figure out what to say next, he humbly explained that he had never met the president before the election. As president-elect, Trump wanted to have a conversation with Tillerson "about the world" given what he gleaned from the complex global issues he dealt with as CEO of Exxon Mobil.

"When he asked me at the end of that conversation to be secretary of state, I was stunned."

When Tillerson got home and told his wife, Renda St. Clair, she shook her finger in his face and said, "I told you God's not through with you."

With a half-worn smile, he said, "I was supposed to retire in March, this month. I was going to go to the ranch to be with my grandkids."
It's no surprise that Tillerson didn't expect to be offered the job, since spending your entire career at ExxonMobil isn't usually how one prepares for a life of government service. Still, it's notable that Tillerson wants people to know that while some candidates for the job were humiliating themselves over frogs' legs, he had to be talked into bringing his talents to Foggy Bottom.
Tillerson said his wife convinced him that he's "supposed to do this," and when asked if he intends to remain in the position for Trump's whole term, he said, "I serve at the pleasure of the president."
Tillerson's rebellious attitude does not extend to his new boss. The secretary offers plenty of commentary sure to please President Trump, from explaining how the campaign slogan "America First" guides everything he does, to criticizing the Obama administration for aiming to merely "degrade" ISIS (though President Obama said on numerous occasions that the goal was to "destroy" the terrorist group).
But there were some cracks in Tillerson's confident demeanor. He said he's fine with the White House's plan to cut the State Department budget by 28 percent, but he admitted he hasn't talked to the president about what exactly that means:
… even though Tillerson said he talks to Trump daily and has an open invitation to visit him at the White House whenever he chooses, he said they haven't yet talked about what a dramatically different State Department will look like or how he will staff it.

His eyes darted down to his desk when he said, "We haven't gotten that far yet," as though he realized he had been caught.
Tillerson has also pointed out that he's still finding his footing. "I would hope that people can maintain their patience in these early days and recognize I've only been at it six weeks," he said.