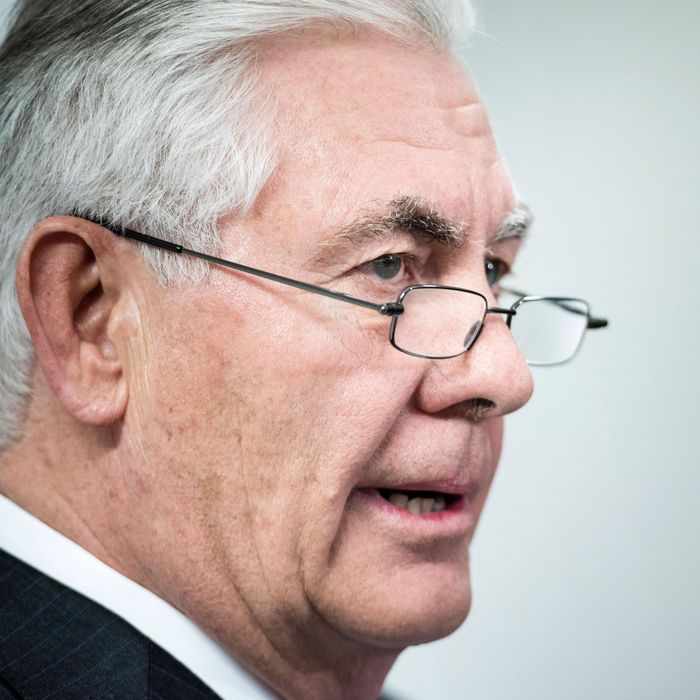 Tillerson.
Photo: Brendan Smialowski/AFP/Getty Images
U.S. sanctions on Russia will remain in place until the nation calls off its annexation of Crimea, Secretary of State Rex Tillerson said Friday. It's a noteworthy statement given the lack of clarity from President Trump on the issue.
"We do not, and will not, accept Russian efforts to change the borders of territory of Ukraine," he said at a NATO meeting in Brussels. "The United States sanctions will remain until Moscow reverses the actions that triggered our sanctions."
During the campaign, Trump suggested that he "would be looking into" recognizing Russia's 2014 annexation of Crimea. His stance on the future of sanctions has become murkier since. First, there was former national security adviser Michael Flynn discussing sanctions with the Russian ambassador and then lying to Vice-President Mike Pence about it. And then there was the report alleging that Trump's personal lawyer, Michael D. Cohen, lobbied for a plan to remove sanctions on behalf of a pro-Putin Ukrainian lawmaker.
On the other hand, Trump also tweeted last month that Crimea was "TAKEN" by Russia. As with so many issues, it's difficult to tell exactly where Trump stands on this one.
Tillerson's hard-line stance is not the first time a top U.S. diplomat has insisted that Russia reverse course in Ukraine before sanctions are lifted. U.N. ambassador Nikki Haley said last month that "Crimea-related sanctions will remain in place until Russia returns control over the peninsula to Ukraine."
Russia's response to Tillerson's message appears to be the equivalent of a shoulder shrug. Speaking to CNN, a foreign-ministry spokeswoman left open the possibility that Trump's actions will be more favorable to Russia than the words of his diplomats. "We want to see the U.S. foreign policy, not just quotes," the spokeswoman said, suggesting that Moscow is learning a lesson Americans are also catching on to: Ignore what Trump says and focus on what he does.